The fourth issue of Valiant's Shadowman caps off the origin of the newest man to wear the skull face.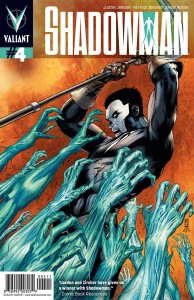 If you've been following Shadowman since the beginning then you know that this first arc is, at its core, an origin story. And that's not to say that the pacing and flow has been boring or slow moving by the way, quite the opposite.
Valiant has made some major efforts to make its characters relevant and modern in their sensibilities since the publisher's reemergence, and Jack Boniface is no different. Since the book kicked off, it's basically been one long rollercoaster ride that really hasn't let up. Ever.
At this point in the story, Jack has been cemented as the new face of Shadowman and host for the otherworldly Loa- a symbiotic creature that we still don't really know the full story on. If you don't know what that means, then you need -stress that, need– to go back and read Shadowman #3. Seriously, it's awesome.
Trapped on the Dead Side, Jack and his companion Alyssa must fight their way out from the afterlife and back to the land of the living. At the same time, the twisted Mr… uh… Twist has opened a bridge of his own into the Dead Side in an effort to free his boss Master Darque and return him to Earth. That's a bad thing by the way.
Darque is a necromantic powerhouse who's been trying to break loose of the other side for years and is just now closing in on his illusive freedom. His salvation lies in his pawn Twist and it's up to Shadowman to stop them and pin the evil that is Master Darque back into his Dead Side prison.
Writers Justin Jordan and Patrick Zircher have crafted a very worthy capper to the opening bow of Shadowman and have brought the dark hero to the forefront of modern action/horror comics with a flourish. The team has masterfully worked both realms (which aren't really two flavors that you often see mashed up in comics) into a mythology that works very well indeed.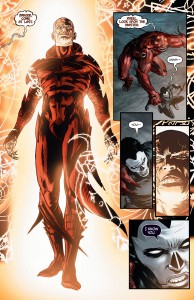 It's mostly super heroics, no doubt, but there's more than enough horror in Shadowman to keep fans of the nightmarish happy. Issue 4 also hints at things yet to come as not only do further evolutions and powers of the title character get hinted at, but the larger scheme of things and even Jack's partners seemingly hold secrets yet to be told.
Not at all a secret though is the fantastic artwork of penciler (and co-writer) Pat Zircher. The art style is heavy and moody with a tremendous amount of detail that really coveys a great menacing feel. It's really beautiful stuff, so to speak and Zircher is truly emerging as a force in comics.
Also absolutely incredible is the continuing color work of Brian Reber and I'd be remiss if I didn't mention him at all. Reber's work is gorgeous with huge swaths of glowing reds and greens that shade the otherworldly dream-like world of the Dead Side. The 'special effects' in Shadowman stand out as definitely the prettiest in the Valiant Universe and some of the best in comics. I'm a fan.
Final Thoughts
Valiant continues to just get pretty much everything right in their relaunch and Shadowman is no different.
With the first story arc coming to a close in issue 4, it's a great time for those that haven't taken the plunge yet to get in on the action too. Since the book is only up to 4 issues, it's relatively easy to go back and grab the all of them to get you caught up (especially if you go the digital route).
Shadowman is a trip well worth taking whether you're a horror fan, an action fan, or just like great comics- I have a feeling that the man from the Dead Side won't let you down.
Continue Reading >>> Source link