Black Friday at clothier Old Navy is no stranger to some pretty cool giveaways. The latest promo might just be the best one yet as it'll see copies of New Super Mario Bros U heading out the door with a qualifying purchase.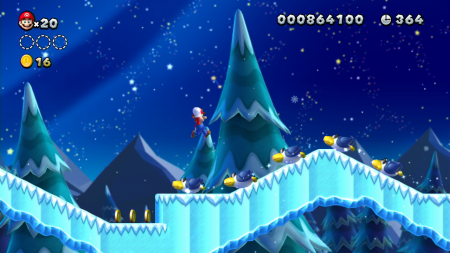 Yeah, the yearly association between games and Old Navy might seem strange, but don't look a gift horse in the mouth.
Old Navy will be offering free copies of the newest Mario title (the first and one of the biggest launch titles for the Wii U) to shoppers who spend $40 or more at the store this Black Friday. The promotion is being called (appropriately enough) Cheermageddon. The winning doesn't stop there either as aside from the free game, Old Navy will also be giving happy (?) shoppers a chance at a Wii U console.
1,000 consoles will be up for grabs and entry cards to win will be given out on that magical day after Thanksgiving in the US (and on the 24th in Canada) to folks engaging in the first day of the Holiday crush.
So for forty bucks (USD) you can get Holiday gifts, a copy of New Super Mario Bros U, and a chance to win a Wii U. Not too shabby.
The catch here is that all of this is 'first come first served' and stock on the games and the entry cards more than likely (I'd guess more along the lines of 'definitely') won't last the whole of the biggest shopping day of the year. So here's an incredibly obvious tip for you all- line up early if you want in on any of this stuff. And try to have a little fun would you? It's the Holidays!
Continue Reading >>> Source link