Spinning right out of its Monopoly promo at McDonalds this past Spring, Activision's ultra popular Skylanders franchise now has a full on edition of the classic board game to call its own.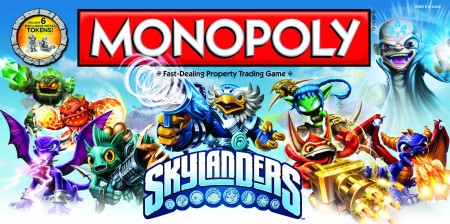 There's been an outbreak of games (and Apps) getting their own board games as of late. The artform has really kind of exploded in recent year all by itself though with games popping up based on entertainment properties and original IP's all over the place. Now you can add one more game to the mix though with Skylanders Monopoly.
Produced by USAopoly and Hasbro in conjunction with Activision, the Skylanders version of the classic game of hotels and land buys is almost here. Skylands is up for sale in the game with all of the best loved characters form the digital version in tow- including Lord KAOS and that lovable mouth on feet, the Chompie.
Players can look forward to buying and selling such properties as Stealth Elf's Ninja Dojo, Trigger Happy's Bank Vault and Spyro's Chompy Diner and steering as far wide of pitfalls like Auric's Traveling Store Taxes and Persephone's Gem Shop Tax as they possibly can.
Taking the place of Boardwalk and Park Place will be the premier properties of Thumpback's Thundering Tidepool and Zap's Lightening Race Track. You can grab a copy of Skylanders Monopoly from Amazon and specialty stores like GameStop and Hastings and start buying up properties in Skylands like Donald Trump on an air barge right now.
Continue Reading >>> Source link