The best of both worlds? A backpack becomes a duffle bag with Solo's Velocity. It's a duffpack. And it can store pretty much anything you might need.
It's a duffpack. Or something.
Possible phrasing issues aside, I have a bit of a bag "problem". I have a bunch of backpacks, cross-body deals, and other devices of carrying that I use a dubious amount of time. Most of them I buy and use just a couple of months. It's a sickness.
There are precious few bags that I own that have actual functions however. Those I don't get too tired of and pretty much stay in constant rotation. I have one that I grab when I have to run errands, one for work, another for Cons and shows that I cover for BG, and one for vacations.
And now three of those slots have a new rotational member.
The Velocity Backpack Duffle is what I'm referring to of course. If it wasn't, this'd be a weird review.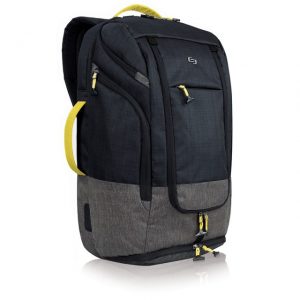 As a first time user of New York-based Solo's products, I didn't really know what I'd be getting. I have a few Tumi packs, as well as some higher-end stuff, and although Solo's selection of bags looked pretty nice to me, I had no idea what level of quality they'd have. For that matter, the functionality was a question mark as well. I am quite pleased to report however, that this is a pack that delivers.
Roomy, sharp looking, and tough to boot
This piece is billed as a backpack and a duffle, and there are reasons for that (which we'll get into). But don't be put off if you're looking for one or the other. There's a good chance that the Velocity will have you covered.
To get it out of the way, yes, this is a pretty big pack. At 21″ x 13″ x 8″ there's a lot to it, though it's still incredibly light weight. According to Solo, the pack itself weighs just 2.4 pounds, though it feels lighter than that to me. And that's a very good thing, considering how much you can stuff into it.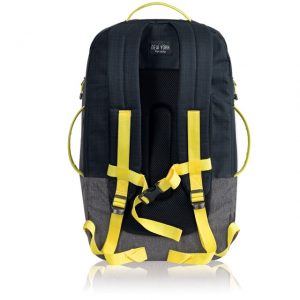 It's made that big for a reason, and can hold onto a 17.3″ laptop. That's not an easy thing to find, as I'd been looking for some way to transport an Alienware lappy for a while. Not a problem for this bad boy.
I'm also digging the looks of the Velocity quite a bit.
Built out of a cool, lightweight material, the pack has nice padded straps, easy to find and use zippers, and a back that won't have you sweating buckets with extended wear. Oh, and the multiple handles, installed at every conceivable location, are awesomely useful. Good stuff all around.
While I'm mentioning the handles, I know that the caution-yellow highlighting might not be everyone's cup of tea. I didn't so much care for it either when I first got it. And honestly, I'm digging it now. It's different for something that I'd use, and I don't mind that.
The Velocity is pretty darned rugged too, if I may say so. Though I haven't exactly put the bag through hell, I have used it for a while to no ill effects whatsoever. I brought it along on a few trips, as well as used it daily for my commute to work. And it -no kidding- still looks new.
More pockets and pouches than a 90s superhero
So it's good looking and pretty durable, but what about the most important thing? Yes, I mean pouches and pockets, and man does the Velocity score big with both.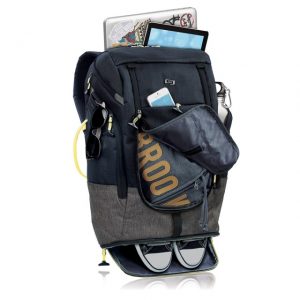 The main compartment of the pack is a roomy space that is designed to be used as a duffle. So you can fit all kind of stuff into it. It's so roomy, that I'd imagine that you could probably squeeze one or two days worth of clothes into it, if you're economical.
But what about shoes? Can you store an extra pair of shoes in it without sitting them on your clothes? Yep. There's a zippered shoe compartment at the base of the pack. As cool as it is, it might give you some issues if your shoes are over a 10 US. It gave me a minor problem and I'm an 11 and a half. Still, it's cool to have, and a welcome backup for more storage. Who said you have to keep shoes in it?
As for the rest of the onboard storage, here's what you get:
A padded 17.3″ laptop storage compartment
A tablet pocket
Two side-pockets that run about 3/4 of the pack's length.
That's a lot of room for… everything.
I had a 3DS (in a case), a Switch (in a pretty bulky case), an Apple MacBook Air, a pretty big sweatshirt, a pair of shoes, and the cables for all the electronics in this thing. Yes, it was a little heavy and puffed off of my back a bit much for my liking, but it all fit comfortably.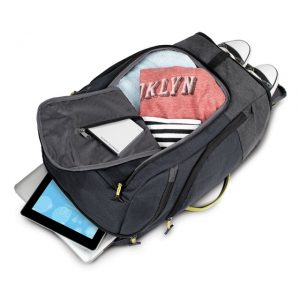 Those aren't even all the pouches that are available by the way. There are a few hidden areas as well, meant to hold small odds and ends. There are even a pair of ways to get into the main compartment. Depending on if you're using the Velocity more as a duffle or as a backpack, you can dig in either through the face of the bag, or by a nice arched opening at the top.
Any way you look at it, there is a ton and a half to like about the Velocity Backpack Duffle. As a backpack junkie, it's something that I can easily recommend.
Solo Velocity Backpack Duffle
Release date: Available now
Continue Reading >>> Source link