Harkening back to one of the most-popular Spider-Man books of all time, the Spectacular Spider-Man is here courtesy of DST.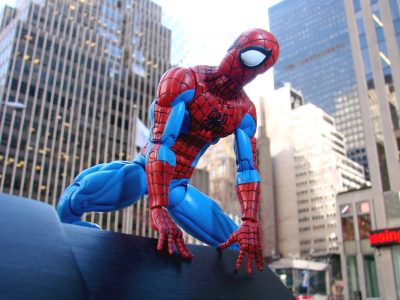 Diamond Select Toys' Marvel Select line is one of the company's best and it's more than about time that Spider-Man got another piece of the limelight. I liked the last figure that DST made of Spidey quite a bit actually, but this one looks head and shoulders cooler. He's got good timing too, since the character is about to enter into the MCU proper in this Summer's Captain America: Civil War.
Standing at the 7″ scale, Spidey has 16 points of articulation so you can get him into pretty much any Spider-Man pose you can think of… maybe even the McFarlane ones. He also comes with a plethora of accessories, including a "basic pair of open hands, Spider-Man comes with three bonus sets – fists, grabbing hands and web-shooting hands. He also comes with an interchangeable Peter Parker head, a camera accessory that hangs on his shoulder, and a bunched-up Spider-Man mask that he can hold in his grabbing hand." Yep, pretty awesome.
Pre-orders for the figure are available right now at both marvelshop.com and disneystore.com and lands in Disney Stores nationwide on February 29th.
Continue Reading >>> Source link