Squids Odyssey brings the handheld franchise onto the Wii U for some undersea questing action.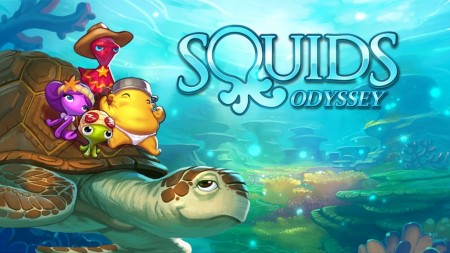 Squids Odyssey is a title by The Game Bakers, a smaller and mostly unknown indie studio. The original Squids game was released on 3DS earlier this year and on iOS last year, with a release on the Wii U only recently and marking its first edition on a home console. The basic premise of both Nintendo versions are basically the same, seeing as both systems utilize two screens for the action, but the Wii U version has the ability to be played on just the gamepad, which is always nice. The premise of the game is a "tactical RPG" which allows you to level up the individual squids (the characters you play as) that you use in game.
As far as narrative, the game unfortunately features a very forgettable story about some magical squids and a quest to collect some gems. Obviously not meant to be taken very seriously or really bother with it, but it provides a plot to move things along in the game nonetheless.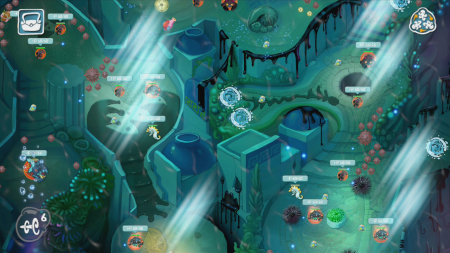 The main part of the action involves flicking on the touchscreen, and lots of it. This is where the touchpad in both versions of the game come into use, as you flick the squids around the playing area to discover more of it. It's sort of reminiscent of Angry Birds' flick mechanic wherein you pull back using different amounts of force which forces the squids to fly in the opposite direction. Its not hard to utilize but in some instances can be tricky as some levels have fall off zones which lead to an automatic death.
Squids Odyssey also features a turn-based gameplay style when you encounter enemies. Your squids will have a certain number of moves before the enemy is allowed to attack you. And because damage is done only through flicking into enemies, makes for some interesting battles.
The art is very basic yet cartoony with bright colors all around, giving a childlike quality to the entire experience. The music also has little impact on the game, mostly just allowing a change from the sounds of squids bouncing around.
Final Thoughts
This is a clever yet simple title which can only be recommended for the young or young at heart. Although it has some smart mechanics and an interesting enough level design, there are many other games for cheaper which are better deserving of one's time and money. But if you have a 3DS or Wii U and are looking for anything to pick up to while away the hours this Summer, this could be what you are looking for.
Continue Reading >>> Source link