When is a 'lost episode' not a lost episode? When it comes back as a comic book.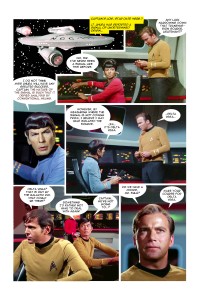 "There was a visual richness to that second pilot that really drew me in," said writer/artist John Byrne, "and since I have long wanted to experiment with something like this project, that episode seemed the perfect choice for a sequel."
Now this is interesting. Veteran comics writer John Byrne and publisher IDW have teamed to bring Trek fans something very special- a direct sequel to the classic episode 'Where No Man Has Gone Before'.
Only the third episode of the original Star Trek series, the 1966 installment of the sci-fi classic was one of Byrne's favorites and starred one of the most popular one-off characters from the show's entire run- Gary Mitchell. Titled 'Strange New Worlds', this sequel plays out in IDW's Star Trek Annual 2013. And it plays out in a very cool way.
The art style just might get fans and non-fans alike talking too as it's done in a format that comic book readers haven't really seen since it was used heavily in the 1970's. It's easy to imagine, as you look at the promo page to the right, that IDW merely stuck scenes from episodes of the show into the comic to make the story- that's not the case though.
Byrne himself actually got his hands dirty here and composited multiple film stills together to fit the mood and style of story he wanted throughout. So there's no screen-grabbing, cut and pasting going on in the traditional sense here, this is pretty much all-new material that Byrne assembled. Kind of like directing an episode when you think about it.
"This project started out as just a fun diversion for John in between other projects," said Editor-in-Chief Chris Ryall, "and as is wont to happen with JB, it continued to grow and become something much bigger than his original intent. It's a blast to see an 'all-new' original series episode done this way. Byrne has produced over 500 pages of Star Trek comics for us already, but I can promise readers that they've never seen this kind of Star Trek comic from him before."
Prepare to boldly go down to your local comic shop as the 'photonovel' that is the Star Trek Annual 2013 hits stands in the third week of December from IDW.
Continue Reading >>> Source link