It's been over 30 years since Professor Abraham Van Helsing visited Dracula's castle. Now his descendent, the mysterious vampire hunter Rosalyn Van Helsing, is teaming up with a ragtag group of con men for a high stakes heist to rob Europe's richest vampires.
SILVER Returns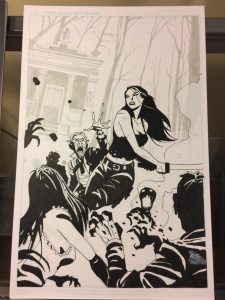 Welcome to the world of Stephan Franck's SILVER, a globe-trotting graphic novel series that mashes up the world of Bram Stoker's classic novel Dracula with action, adventure, humor, pulp storytelling and modern sensibilities.
As Batman: The Long Halloween artist Tim Sale has said, "With SILVER, Stephan Franck shows how much excitement can be packed into a fast-moving, thrill-filled story… a really, really fun ride."
Having previously funded the first two volumes of via Kickstarter, Franck and his company Dark Planet Comics are launching a Kickstarter campaign to fund the third volume of SILVER and help bring the first two volumes to a wider audience.
In SILVER, a group of cons discover the late Jonathan Harker's secret ledger, which discloses the existence of an exotic treasure of silver hidden in Dracula's castle.
Finnigan, the group's leader, may be ethically challenged, but he knows a retirement plan when he sees it. He's willing to do whatever it takes to pull off the heist of the last ten centuries, even if it means allying with a beautiful, sword wielding vampire hunter…. who just happens to be a descendent of Van Helsing.
Keep your eyes open for Stephan's project, or check out their kickstarter page.
Continue Reading >>> Source link