Ryu's saga to control the dark forces within takes him into the wild, all the way to the home of the one-armed hermit Oro.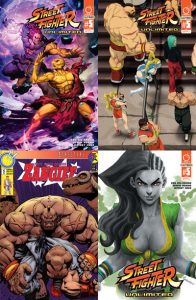 The rarely seen character of Oro makes his presence felt in this fifth issue of Udon's current Street Fighter series. The old master was only seen in one Street Fighter title, SFIII, and generally isn't mentioned all that much anywhere really.
He makes a major force here though, as Ryu needs his help in a gambit to wrestle the darkness that lurks within himself. That's a pretty common theme of course, as Ryu is often depicted as struggling with his evil self, just not in association with Oro at all. It's also an issue that welcomes in new penciler Edwin Huang.
That's the main tale here, but then readers will get a backup story as well, illustrated by Jeffrey "Chamba" Cruz. That story features Oro as well, but also one of the more famed villains in the game series, none other than Akuma.
In usual spirit, this one's got some cool variant covers too, with Gonzalo "Genzoman" Ordóñez Arias and Cruz bringing you the 'standard' cover illustrations, Steve "Kandoken" Mack bringing the Street Fighter V love with his drawing of new World Warrior Laura Matsuda, and finally Joe Vriens nailing a wicked throwback image. While Udon won't name it exactly, longtime comic fans should immediately be able to spot the ode to the classic Batman/Bane story of Nightfall from DC Comics.
You'll be able to grab a copy of Street Fighter Unlimited #5, including all the variant covers, this coming April.
Continue Reading >>> Source link