The new story arc launching in Superior Spider-Man #14 sends Octo-Spidey into the heart of New York's criminal underground.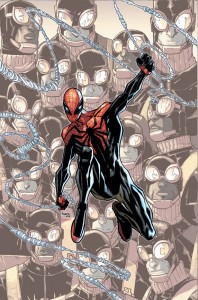 Otto Octavius' quest to become the Superior Spider-Man continues as he sets his sights on cleaning out NYC's criminal element (called the Shadowland) for good. The former arch-criminal is serious too- targeting the likes of Hobgoblin and the even the Kingpin himself.
Continuing his personal quest to show the world why he is truly the superior Spider-Man, Otto Octavius looks to add cleaning up the City of New York to his list of accomplishments! But what's his plan of attack? Eliminate Shadowland. All of it. With the Kingpin and Hobgoblin running crime throughout the city for far too long and nobody daring enough to take them down, the Superior Spider-Man takes matters into his own hands!
I have to admit, as a huge Spider-Man fan, I'm still not a big supporter of the 'Superior' angle that writer Dan Slott has crafted- but it's growing on me. And I guess it better because it certainly looks as though Doc Ock's run as Spider-Man is going to last through 2013 at the very least. Marvel is touting issue #14 as the the start of something big for the revamped character and saying "fans everywhere will be screaming for more"; and of course he's got that nifty new costume too, so we'll see.
Superior Spider-Man #14 from the team of Slott and Humberto Ramos hits stands this July, only from Marvel Comics.
Continue Reading >>> Source link