Internet retailer Entertainment Earth has one of Batman's femme fatale's, with the newest PVC statue in the DC Animated line.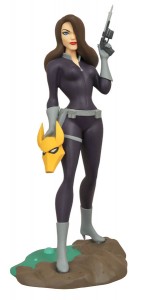 One of the coolest characters to really hit big with fans out of the classic Batman: The Animated series was Talia Al Ghul. The daughter of Ra's Al Ghul and assassin was one of Bruce Wayne's recurring enemies and loves on the show, much like in the comics, and now she'll be a part of the lineup of DC Animated characters, exclusively at EE.
The statue, which hails from collectible and toy-maker Diamond Select Toys,  stands in at 9″ tall, and was sculpted by Varner Studios based on her appearance in that cartoon. She's decked out in her usual attire on that show, and even includes the mask seen in the first episode that she appeared in, and a bubbling bit of life-restoring Lazarus Pit on the base.
Alia joins other DC women in the series, including "Batgirl, Catwoman, Harley Quinn, Poison Ivy, Supergirl, Hawkgirl and Wonder Woman." The designs are all pretty great too, making this a solid series to get into and one that fans of the DC animated properties should take a peek at.
As for Talia, she's pre-orderable right now (right here), and will ship some time this Fall.
Continue Reading >>> Source link