Classic Metroidvania-type gameplay from the modern masters of the art form WayForward will be bringing the Turtles to the Xbox 360, PS3, and 3DS this Fall.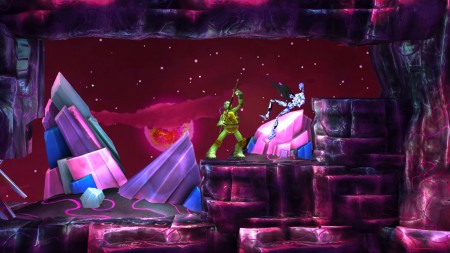 Based not on the Michael Bay-produced movie  that hit theaters this Summer (thank goodness), this new title from Activision and WayForward Technologies is based on the runaway hit Nickelodeon animated show. Danger of the Ooze will take place between seasons 2 and 3 of the cartoon and feature new "locations, allies, and threats".
You'll be facing off against a familiar cadre of baddies here too including Tiger Claw and the Shredder himself. All four Turtles will be playable in the game and (just like the classic NES game) you'll be able to hot-swap the fab four at will throughout the adventure. As I mentioned above too, the gameplay will be classically styled as well with a "vast, interconnected, non-linear game world, which rewards exploration and creative thinking", which just calls up all kinds of memories from the 8 and 16bit eras.
Nothing really in terms of story here yet unfortunately, but you will definitely be facing off against Shredder and his crew both on Earth and in Dimension X, home of the Kraang. Look for Teenage Mutant Ninja Turtles: Danger of the Ooze on the Xbox 360, PS3, and 3DS some time this Fall.
Continue Reading >>> Source link