Not that he ever was really retired, he was just missing from the PC gaming landscape since the late '90s.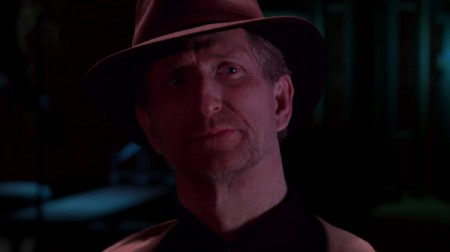 Fans of FMV, adventure games, and that lovable gumshoe Tex Murphy have a lot to be thankful for today as Tesla Effect has finally arrived in all its glory. And that was no mean feat as Tex had a long, strange road getting back to the PC. First, a successful Kickstarter campaign (launched in 2012) was cleared, raising money for development, followed by Atlus joining on with developer Big Finish Games to finally bring the title to gamers everywhere.
It looks like everything that you remember about the series is fully intact for Tesla Effect as well, which is excellent news for anyone who remembers spending many an hour playing through these classics. A 3D adventure game loaded with FMV (full motion video- don't worry, that's a good thing), "real actors", that standard Murphy charm, and a total of 5 possible endings; Tex is indeed back. Now lets hope he doesn't stay away too long this time.
Get back to the '90s and take a trip to post-apocalyptic LA with Tesla Effect: A Tex Murphy Adventure on Steam, GOG, and other platforms starting right now for $19.99 USD.
Continue Reading >>> Source link