Call it- the Mighty Ducks are future NHL champs.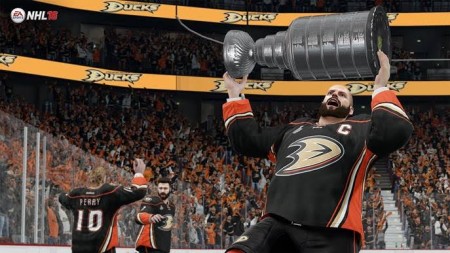 So, as usual, EA went and sim'd the NHL season in their newest hockey offering, NHL 16. And according to them, the winners of Lord Stanley's Cup will be none other than the Anaheim Ducks from the sunshine state of California.
The story shakes out like this (according to the game, remember): The Ducks best the Minnesota Wild in the Western Conference Final to get to the big show, while the Montreal Canadiens will defeat the Pittsburgh Penguins on the opposite coast to get there. All that culminates in a titanic matchup of the Canadiens versus the Ducks, with the quackers coming out the better team.
Also worth noting, if you follow this kind of prognostication, is that NHL 16 has the LA Kings getting back into the post, though getting bounced in the first round by the Calgary Flames. The game has the Buffalo Sabres almost making a turnaround for the ages too, after finishing last in this past season, and just missing out on a playoff birth by a measly two points.
On the more personal end of things, NHL 16 has Washington Capitals captain Alex Ovechkin winning the Maurice "Rocket" Richard Trophy, and Edmonton Oilers forward Connor McDavid distinguishing himself on the ice and taking rookie of the year honors. Meanwhile, look for goalie Carey Price with win his second consecutive Vezina Trophy honor, and for Sidney Crosby to take home almost everything else, including the Hart Memorial Trophy, Art Ross Trophy and the Ted Lindsay Award.
So that's the long and the short of it. If you'd like to check out things in action, hit play below.
Continue Reading >>> Source link