Miss out on the first two Dead Island games? Well that's what the Definitive Collection is for.
If you played either of the  Dead Island games that currently make up the series, then you probably have a pretty good opinion of them. There was a bit of decent as to their overall quality in the online arena, though I loved them and know more then a couple of gamers who did too.
With a combination of a zombie apocalypse (which was red-hot at the time) and the fairly unique tropical setting that said end-of-the-world took place in, the series was a winner even for those (like me) who weren't into the undead craze. Needless to say, I was a little bummed to find out that DI2 had been put in a holding pattern by publisher Deep Silver.
And though that game is still said to be on the way at some point, this little pack here might be a decent hold-me-over. Dead Island: Definitive Collection includes both the original game and it's Riptide spinoff, plus all the DLC for those games and a special new game, fashioned in the retro-mould.
As you might imagine too, those games aren't just represented as the first appeared on the PS3 and Xbox 360 either. They've had some upgrades. Here's what's new:
Higher Quality Textures
Game textures have been redone in a higher resolution and the level of quality has been improved across the board
Photorealistic new lighting system
The lighting system in the game has been vastly improved, providing a much more realistic look to the beautiful sunny tropical setting
Physically based shading
The introduction of new physically based shading techniques due to the latest iteration of the Chrome Engine means a higher quality look to the game models and objects as they react in a more realistic way to various lighting conditions
Image quality enhancements via anti-aliasing
The addition of more sophisticated anti-aliasing means that console players can now experience Dead Island without unsightly "jaggies" – meaning a much cleaner look throughout
Improved-quality game models and geometry assets
All major geometry assets (for example: NPCs and character models) highlight a marked quality increase
HBAO and motion blur effects
The introduction of Horizon-based Ambient Occlusion adds an extra layer of depth and realism to the world. Through a better implementation of object shadows, while the all-new motion blur effects will provide a much more cinematic feel to the game experience
Updated game UI
Providing a more consistent look between both Dead Island and Dead Island: Riptide. Increase to equal quality level for seamless game experience
The Current-gen Console Experience
The Dead Island Definitive Collection will also of course take advantage of the latest console features such as Online 4 Player Co-op, PS®Vita Remote-Play (PS4™), Share-Play (PS4™), streaming and recording
Power Fists Power-up
And last but not least, the fan favorite unofficial PC mod will also now be added to both products. Punch your way through the mayhem with craziest power-up, ever
And as to that retro-affair, it's called Dead Island Retro Revenge and it's basically a side-scrolling endless runner. The game features all melee action, with power-ups and super-attacks, as well as a combo system to keep you knocking the undead around for as long as you last. You'll also find leaderboards and achievements/trophy support, plus a promised "plenty of depth".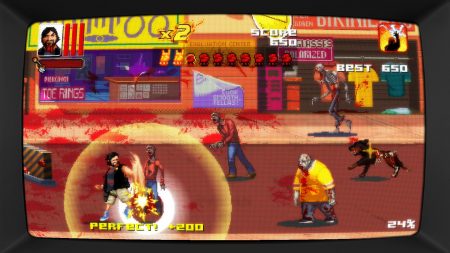 So basically, you get a lot of stuff with this one, and for a low cost of entry. The Dead Island Definitive Collection will run you just $39.99 USD for the PS4 or Xbox One. And if you feel like you just want one or the other (and don't care about missing out on Dead Island Retro Revenge) then you'll also be happy to know that both revamped DI games will be available singly via Xbox Live or the PSN for the Xbox One and PS4 respectively. They'll cost you $19.99 USD a piece.
When can you expect all this undead action? Pretty soon really, as all three flavors of Dead Island are expected to stalk the current generation of consoles on May 31st.
Continue Reading >>> Source link