The original Thor is back, or is he? There's a whole mess of questions surrounding next month's Thor #700 from Marvel Comics. Whatever happens though, it looks like the Odinson is back in a big way.
Be he worthy…
Thor has been in a kind of limbo for a while now. No, I don't mean the "Lady" Thor that is the Odinson's former love Jane Foster. She picked up the hammer Mjolnir after Thor was deemed unworthy of it a few years back. She's been serving as the Thunder God ever since. But now it seems as though her time is coming to a close. And I mean that in more ways than one.
With Legacy bringing back all manner of former heroes to glory, it seems like Thor is next in line. Yesterday's press release not only included the following message, but a set of intriguing images. And from the re-designs included there, it certainly seems as though the original Thunderer is set to rejoin Captain America and Iron Man (and Phoenix, and Wolverine, and…) in the Marvel pantheon.
Here's the skinny on the return of a classic:
THOR #700 raised the Mighty Asgardian to a new level of storytelling in an epic tale from writer Jason Aaron and a host of incredible artists such as Russell Dauterman, Walter Simonson, James Harren, Becky Cloonan, Das Pastoras, Chris Burnham, Andrew MacLean, Jill Thompson, Mike del Mundo, Olivier Coipel, Daniel Acuna, and Matthew Wilson. And in the spirit of Marvel Legacy, this is just the beginning of a story that will affect not just Thor, but the Marvel Universe at large.

"The Death Of The Mighty Thor story has only just begun, but two THOR characters are already dead!" teases editor Wil Moss. "In THE MIGHTY THOR #700, the monstrous Mangog kills Thor's goat Toothgnasher and Malekith's dark army kills Karnilla, Queen of the Norns. Before she dies, though, Karnilla sees where the threads of fate are leading, and thanks to a gorgeous double-page spread by writer Jason Aaron, artist Russell Dauterman and color artist Matthew Wilson, readers get to see what's coming too."

"You see a lot teases for upcoming stories here," says writer Jason Aaron. "Some of those stories will play out in the pages of THOR. Others will play out elsewhere, some across multiple titles. Between THOR #700 and MARVEL LEGACY #1, I'm really setting the stage for the biggest stories I'll be doing for Marvel in 2018. Probably the biggest stories I've ever done for Marvel, period. You see a lot of that set-up here, and I'm beyond excited for everybody to see where it's leading and what it means for Thor, not to mention the rest of the Marvel Universe."

"We're not going to explain the meaning behind all the various images on that double-page spread," continues Moss, "but we want to hear our readers' best guesses! Drop us a line at[email protected], and mark your emails 'Okay To Print'!"

The perfect jumping-on point for all fans, THOR #700 is in comic shops now. Don't miss your chance to get in on the action! And look for THOR #701 – which Moss calls "an issue-length brawl to end all brawls" – coming to comic shops in November!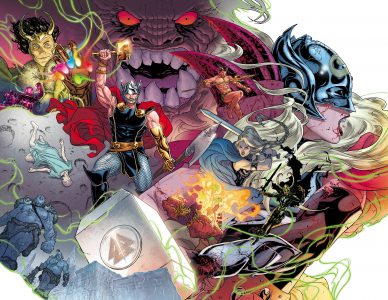 Continue Reading >>> Source link