The Zelda classic from the N64 arrives on the Wii U, along with little else this Holiday weekend.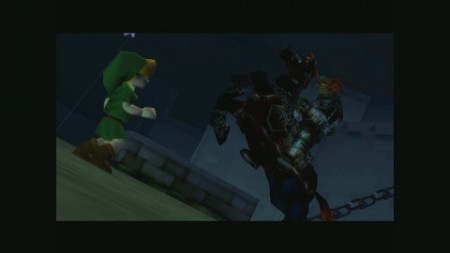 It's the Fourth of July weekend in the US, and that unfortunately means that there's precious little on the eShop in terms of what's new. Good thing there are firework shows and BBQ's to occupy your time, because as far as games on the Nintendo family of consoles, there ain't much.
The Legend of Zelda: Ocarina of Time is the standout, and it's legacy isn't really what it used to be… in this form anyway. Sure it's still a classic, and it's still great all by itself, but the 3DS version that saw release not all that long ago is kind of better. Graphical bump aside though, this is the same game as that give or take and it's still well worth playing, if you're not semi-sick of doing that by now.
Other than OoT, there's Samurai Warriors Chronicles 3 on the 3DS. And just about all I can say about that is that it's a Samurai Warriors game, and you should know what that means if you're in any way familiar with the franchise. If you're not- basically, these games are pretty polarizing. They're all really similar, with little in the way of changes made with every iteration. So some folks love 'em, and some hate 'em.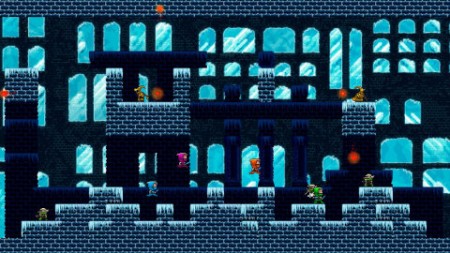 Rounding out the week's offerings is Roving Rogue (which sounds kind of fun) and a slate of sales that's not all that impressive. Scroll down for a look at what's posted.
Nintendo eShop on Nintendo 3DS

Samurai Warriors Chronicles 3 – Developed to celebrate the franchise's 10-year anniversary, Samurai Warriors Chronicles 3 incorporates the best features from previous Samurai Warriorsgames, including the detailed customization mode and battle system of Samurai Warriors 4, as well as the Challenge Mode, which tests players' speed and efficiency as they fight against the clock and thousands of enemies simultaneously. Play as either a uniquely customized character or one of the much-loved, historically inspired Samurai. Stories and lives unfold in multiple ways, offering numerous resolutions to large-scale battles and multiple endings affected by the players' choices, actions and affiliations.

Nintendo eShop on Wii U

Roving Rogue – What comes after The End? That's the question that has dogged humankind's greatest thinkers for millennia. Where do we go? What happens? Who will be there? The answers are: "a crumbling castle," "you run and teleport" and "steadfast knights, goblin archers, obsessed ghosts, demented wizards and other dangerous foes." In Roving Rogue, the multiplayer platforming adventure on the Wii U system, the end is the beginning.

Virtual Console on Wii U

The Legend of Zelda: Ocarina of Time – One of the most critically acclaimed games ever made arrives in the Nintendo eShop on Wii U. Set off on a legendary journey to stop Ganondorf, who has plunged Hyrule into darkness. Travel through time as child and adult Link, and experience Hyrule in peace and war to save the world and protect the Triforce. The Legend of Zelda: Ocarina of Time is one of Nintendo's most epic challenges and tells one of its most touching stories – it's an absolute must-play for Nintendo fans.
Nintendo eShop Sales:
Nintendo eShop on Wii U
Nintendo eShop on Nintendo 3DS
Activities:
Splatoon: New Game Mode and Splatfest – Tower Control, a new game mode that finds Inklings riding a tower into the enemy's base, has been added to Ranked Battle. In addition, the theme for the first Splatoon Splatfest is "Cats or Dogs" and starts July 4. Learn more here: http://splatoon.nintendo.com.
Code Name: S.T.E.A.M. "Independence" Tournament – See how your Code Name: S.T.E.A.M. squad stacks up online in Nintendo's Public Tournaments. Top players earn unique titles that are visible online and earn major bragging rights with their friends and around the world. The new "Independence" tournament runs from July 2 to July 6. Opt in via the SpotPass feature for notifications on future tournaments, and click here for more information about multiplayer tournaments. Good luck, agents!
Theme Shop on Nintendo 3DS:
New themes this week include:

Ace Attorney: Dual Destinies Mood Matrix
Ace Attorney: Dual Destinies Court Record
Ace Attorney Trilogy Pixel Art
Ace Attorney Trilogy Main Characters
Pokémon: Mega Charizard Y & Mega Rayquaza
Pokémon: Eevee Collection: Espeon & Umbreon
Also new this week:
In addition to video games available at retail stores, Nintendo also offers a variety of content that people can download directly to their systems. Nintendo adds new games weekly to the Nintendo eShop on the Wii U console and the Nintendo 3DS family of systems, the Nintendo DSi™ Shop for the Nintendo DSi system and the Wii™ Shop Channel for the Wii console.
The Nintendo eShop is a cash-based service that features a wide variety of content, including new and classic games, applications and demos. Users can add money to their account balances by using a credit card or purchasing a Nintendo eShop Card at a retail store and entering the code from the card. All funds from one card must be loaded in the Nintendo eShop on either Wii U or the Nintendo 3DS family of systems, but can be used in either Nintendo eShop if the systems are linked to a single Nintendo Network account.
The Wii Shop Channel offers games and applications and uses Wii Points™, which can be purchased via the Wii Shop Channel. The Nintendo DSi Shop offers games and applications and uses Nintendo DSi Points™, which can be purchased in the Nintendo DSi Shop.
Remember that Wii U, Wii, Nintendo 3DS, Nintendo 3DS XL, Nintendo 2DS and Nintendo DSi feature parental controls that let adults manage some of the content their children can access. For more information about this and other features, visit http://www.nintendo.com/wiiu or http://www.nintendo.com/3ds.
Continue Reading >>> Source link