The latest addition to Warhammer fantasy football title Blood Bowl II hails from the land of the ice and snow.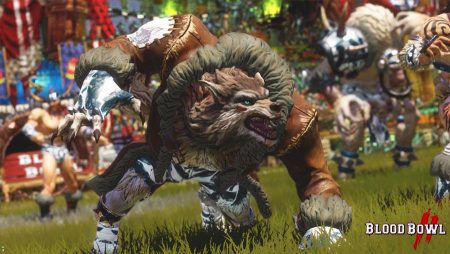 Storming down from the highest points in Warhammer's Old World, the Norse team is the first of four new teams to hit Blood Bowl II's gridiron. Tough as nails, and experts in the game's 'block' skill, the Norse team is solid on defense and can dish out tons of punishment to the opposition. They have to have an achilles heel though, and it's their ability to take a pounding, which they're not all that good at with little in the way of armor.
In the Norse pack, you can expect to find the new player type of the Ulfwerener. A werewolf, the Ulfwerener has high Strength, and a 'frenzy' skill that should have them dealing out damage in spades. The team has a giant player as well with the Yhetee "a vicious Snow Troll with Claws built for shredding high armoured players", and a pair of star players. Those would be Icepelt Hammerblow (a Yhetee) and Wilhelm Chaney, who's an Ulfwerener.
The pack is available now for the Xbox One, PS4, and PC editions of Blood Bowl II, but PC gamers are in for a special treat. While console gamers will have to pay up for all four of the new packs, PC gamers will get them for free if they buy the game now, before any other packs see release. So if you already own the PC version of BBII, then you're good to go as a 'Founder'. If not, then you'll want to buy in now to get the Norse, Undead, Necro, and Nurgle teams on the house.
You might be wondering why that's the case, but there's a pretty good explanation. And that's that developer Cyanide Studio and Focus Home heard a lot of complaining from PC gamers who ended up buying a total of three paid editions of the original game if they wanted all 23 teams. Since they had to shell out so much cash to get all the goods, this time around they get it for free. Pretty nice.
Blood Bowl II is available now for the Xbox One, PS4, and PC.
Continue Reading >>> Source link