Looking for gifts for the near and dear, or maybe just for yourself? Here's the coolest of the cool from the last few months.
Welcome to the first of what'll be a series of quarterly gift guides to appear here on BG. The idea here is to let you guys and gals out there know a little something about the coolest stuff that the staff here has seen and/or gotten the chance to play around with in the last few months.
You'll find some hardware, some books and toys, and more than a few games here. Not everything is going to be of the blockbuster variety either, but all of it'll be cool, we guarantee it*.
As we coast into Autumn too, it's always a good idea to have a little something in the back of your mind of gift-giving time, as it's rapidly approaching. So without further ado…
*not actually guaranteed.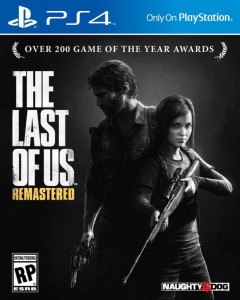 For Summertime, there were actually some pretty great games released as of late. If you missed out on The Last of Us, make sure you don't miss out on The Last of Us Remastered. Is it really that good? Yes, yes it is. Other gems not to be missed form the hottest months on the calendar include Watch_Dogs, Wolfenstein: The New Order, Ultra Street Fighter IV, and Mario Kart 8.
Here are our picks for the best: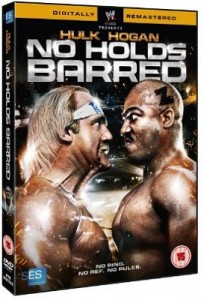 Probably the second-most reviewed item on BG are movies. Our Entertainment Editor Ted has gone over a ton of them in the last few months, and these are the creme de la creme. Whether you're into some of the best network TV shows like Person of Interest and Sherlock, or niche films like Last Days on Mars and Cyborg She, you'll probably find something to like here.
Other than games and movies, there's some darn cool stuff floating around out there on the internet. Here's what took up even more of our coveted desktop space this Summer.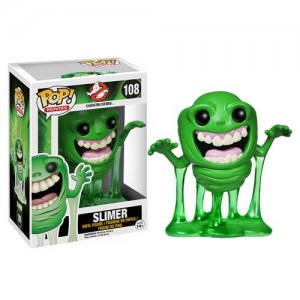 Ghostbusters Slimer Pop! Vinyl figure
Believe it or not, it's the  30th anniversary of the movie Ghostbusters, and Funko has a whole series of awesome Pop! Vinyl figurines out there to celebrate. All four of the 'Busters and the Stay Puft Marshmallow Man are available as well, but it was Slimer with his cool, translucent green base, that caught our attention.
He's a great little accessory for the desk, movie shelf, or even for next to the TV as you pop in the Blu Ray featuring the boys in grey. And for only $9.99 USD, he won't exactly gobble up your wallet either.
Get him here on Entertainment Earth.
—-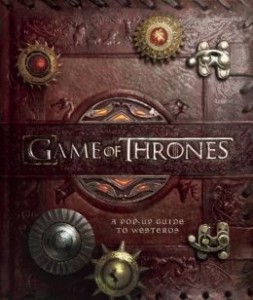 Game of Thrones Pop-Up Guide to Westeros by Matthew Christian Reinhart and Michael Komarck.
Game of Thrones fan? Do you wait patiently till April each year, fretting about getting through the cold, cold winter (it is coming, you know) without your precious GoT to keep you company on Sunday nights? Then this was pretty much made for you.
The Game of Thrones Pop-Up Guide to Westeros is, essentially, a pop-up book with the world of GoT's biggest cities busting forth from its pages. The Illustrations (by Komarck) are dynamite and the design of the book's intricate pop-up features are really something to see.
Oh, and when you've leafed through all the pages, the whole thing unfolds into a big map of Westeros/Essos. Yeah, that's all kinds of cool.
—-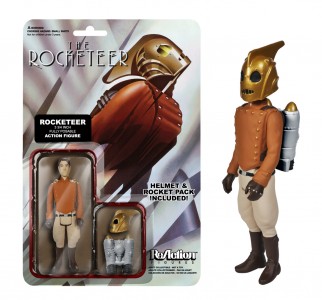 Funko ReAction Figures
Remember what action figures used to look like in the '80s and some of the '90s? Low articulation, simple sculpts, but with great color and pop-y vibe? Toy-maker Funko definitely does, and their ReAction Figures have started to slip out into comic shops and specialty stores, as well as online.
The company has assembled a fantastic selection of licenses for these bad boys, which we took a look at way back at Toy Fair time last February. Terminator, Predator, Escape from New York, Back to the Future, Firefly, Nightmare Before Christmas and (tons) more are all available or will be becoming available shortly. I picked up a Rocketeer the other day and he's awesome. The figure, the box, and everything feel just like I went down to my local toy store (remember those?) back in the '80s. Nostalgia is a wonderful things folks.
Each figure will cost you only $9.99 USD too, so like Slimer above, you're not looking at a major purchase here. Unless you buy them all that is, in which case… Grab 'em on Entertainment Earth.
—-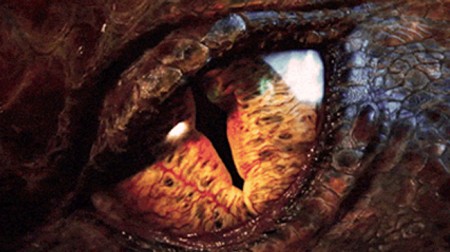 The Hobbit: The Battle of the Five Armies Smaug Large Scale Poseable Action Figure
Now, technically this one's not available  as of yet. Old Smaug isn't set to start shipping out till December 9th at the earliest. Here's the thing though, this may be long gone by then.
Smaug has never (to my knowledge anyway) been cast in action figure form, and this 'large scale' edition is being offered in a limited edition of 3000 pieces. As we said back when we revealed Smaug in all his glory here on BG a while ago, the chances are that these are going to go pretty fast.
As of now though, you can still snap up one of these 21″ tall (with a 22″ wingspan) dragons from The Bridge Direct. If you're a fan of the books/movies, you might want to add him to your treasure hoard sooner than later is all I'm saying.
You can pre-order Smaug for $69.99 USD on the WB Shop right now for shipping at the end of the year. Who doesn't want a dragon under the tree?
—-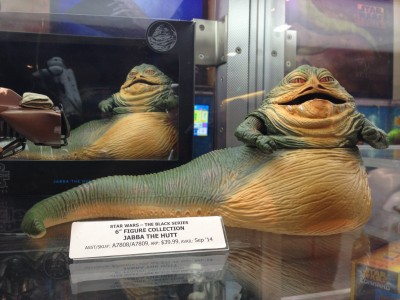 Star Wars Deluxe 6″ Black Series 01
You know that amazing Star Wars Black Series? The one that's increased the scale, and amped up the articulation and sculpted detail on Hasbro's already pretty great (and incredibly long-lived) Star Wars line? Well, it's heading into large scale characters and vehicles.
So far, the Speeder Bike (complete with Scout) and Jabba the Hutt have been trickling into stores and online shops (and there was a pretty great Jabba variant at SDCC 2014), and they're pretty spectacular. Jabba himself is a very large action figure, and even comes with an 'action feature', where you move his arm to make his mouth open and close.
The Imperial Biker Scout is just as cool too with his bike that can 'hover' thanks to a translucent stand that's included in the box. These are cool, and the line is only going to get cooler thanks to a visit from Hoth's Wampa and Tauntaun, so you might want to start picking them up now.
You can grab Jabba and the Scout as a pre-order on BigBadToyStore right now for $84.99 USD. Not a bad deal considering what they're going for on eBay at the moment.
—-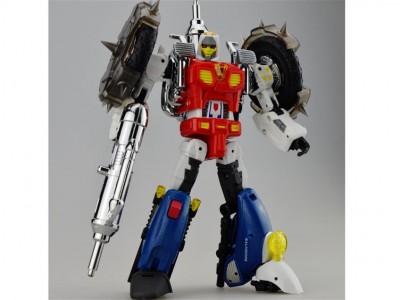 UT-D01 Salmoore by Unique Toys
Odd name right? Well, this is a third-party transforming action toy. Becoming more and more the norm on online stores, third-party Transformers have shot up in popularity. They offer way more detail and, more often than not, a vastly superior look to the licensed Transformers toys made by Hasbro. The reason is pretty easy to explain- Hasbro makes toys for the mass-market and companies like Unique Toys here produce for the enthusiast. What that results in is better looking stuff, and higher prices.
Oh, by the way, notice I didn't say Transformers toy back there in the first intro sentence, as this… is a GoBot. Cy-Kill (the bot in question) was the leader of the bad guy Renegades on GoBots, the Transformers knock-off cartoon and toy line from the mid-80s. It's a weird history between GoBots and Transformers, but all you really have to know is that GoBots copied pretty much every aspect of the Transformers story in a way less popular manner.
The toys were equally, uh, not great and pretty much just faded away till Hasbro bought GoBot creator Tonka in the '90s. As a result, they own the names and bios of all the characters on the roster, but not the designs. And that was it for GoBots. Till now… sort of.
Now Unique Toys has stepped in and produced one of the coolest takes on a GoBot character I've ever seen. UT-D01 Salmoore (or Cy-Kill if you prefer) looks great in either motorcycle or robot mode and comes complete with a pair of blasters and spikes for his wheels. And he's a freaking GoBot and he looks awesome!
Continue Reading >>> Source link