And that's not the only part of this Skylanders Swap Force blitz as Skylanders figures and special activities will be running all through the month of October. I mean SWAPtober.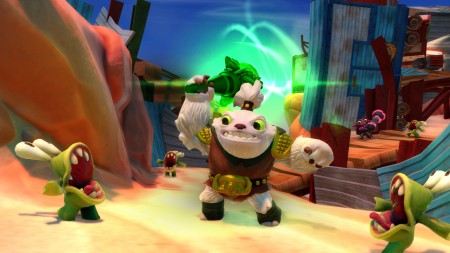 With the game launching (and bringing in a whole new Skylanders obsession) on the 13th of the month, publisher Activision is going all out for the brand and teaming with Toys R Us in New York City's Times Square for a monthlong celebration of all things Skylands. Fans will be able to snag giveaways, explore "the world of the Skylanders" and more at the event which'll be held both inside the Toys R Us Flagship shop and online via Twitter.
First up, from October 1st through the 31st, Activision will be giving away one Skylanders Swap Force Starter Pack per day. All you need to do to get in on the freebie is to follow the Twitter handle @SkylandersGame and head over to the official Skylanders site. Once you login there, you'll need to create a Swap Force character of your own by mixing and matching halves from the roster of new characters. Then when you're done with all that, just Tweet that character with the hashtags #SWAPtober and #Skylanders for your chance to win.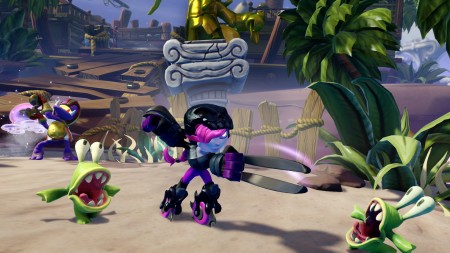 Now, I also mentioned 'in store' stuff and there plenty of that too. From the 10th through the 13th (which is also the weekend of New York Comic Con FYI), the Toys R Us Flagship store will be having one big Skylanders celebration. On the 10th, you'll be able to actually play the game (two days before it releases), take some Tweet-worthy pics with Skylanders characters in costume, have another chance to win a Starter Pack of your choice and be able to win some Skylands merch from "top companies like MEGA Brands, Rubie's Costume Company, Hybrid Apparel and Power A". Something tells me that you might want to try for a case, you'll probably need one… or five.
Following that up on the 12th and 13th is a straight out opening weekend party as the game officially hits for the Xbox 360, PS3, Wii, Wii U and 3DS (Swap Force will be launching day-and-date with the Xbox One and PS4 too) with more "one-of-a-kind in-store experiences" including even more giveaways and game demos.
And if all that sounds like one big ton of Skylanders, you'd be right. There's no arguing that the 'toys to life' brand that was once an oddity is now (only two years later) one of the single biggest franchises in gaming- and toys. Don't believe me? Read this.
Continue Reading >>> Source link