It might be Dark Horse Comics' final year with the license, but the publisher is going out with a bang as their graphic novel connected edition of The Star Wars has hit number one on the New York Times Bestsellers list.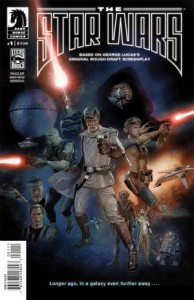 Very different than the movies that fans fell in love with back in the late 70s and 80s, The Star Wars is the adaptation and telling of the original story that George Lucas put to paper before he refined and crafted it into what we all know today. Far from rough though, this 'retelling' (of sorts) is just as interesting as the finished film product, and wildly different.
We loved the first issue of the mini-series here at BG (check out our review here) and thought that no Star Wars fan should miss out on it, and apparently a lot of folks agreed as the collected volume featuring all 8 parts of the tale has hit numero uno on the NYT Bestsellers list. The trade paperback was actually number one, but there's also a hardcover edition that includes the '0' issue as well, and that one came in at number three. Two out of the top three books? Pretty nice Dark Horse.
And for fans who've missed out, there's actually an end-all-be-all edition on the way too. That collector's tome will include all eight parts of the saga and a bunch of extras, all bound into three foil-stamped hardcover books. You can find that on the shelves this month, on August 13th.
Continue Reading >>> Source link