The return of the marquee X-Men title to Marvel Comics is going to be a big one. Uncanny X-Men lands with a ten week arc called Disassembled.
Uncanny!
As #1 issues go, this is a big one. Uncanny hasn't been seen in ages, since issue #544 in 2011, and it's honestly about time it made it's return. I'd have preferred it have the "Legacy" numbering in place, but a fresh start will have to do.
You probably expected this, but as for the story that'll be playing out, it'll be a big one.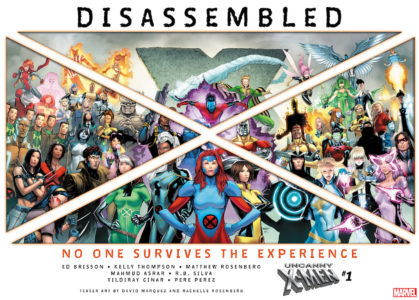 This November, UNCANNY X-MEN returns with a new ongoing series and it all kicks off with a massive 10-part weekly story! X-MEN DISASSEMBLED brings together nearly every mutant left on earth in a story that threatens to destroy them – an epic tale of mystery and tragic disappearance, with an adventure so earth-shattering, it could very well be the X-Men's FINAL mission!

Following UNCANNY X-MEN's initial announcement at this year's San Diego Comic Con, Marvel is excited to announce the full UNCANNY X-MEN creative teams! Featuring fan-favorite creators fresh from their own X-projects, UNCANNY X-MEN brings together acclaimed writers Ed Brisson (Extermination), Kelly Thompson (Mr. & Mrs. X) and Matthew Rosenberg (The Punisher, Phoenix Resurrection). The three superstar writers will join forces with all-star artists Mahmud Asrar (X-Men Red), R.B. Silva (X-Men Blue), Yildiray Cinar (Weapon X) and Pere Pérez (Rogue and Gambit).

Starting this November, the new ongoing series will launch with Disassembled, a stunning and spectacular 10-part weekly epic. Where the series goes from there?

That depends on who survives the experience…
Uncanny X-Men #1 hits the racks on November the 14th.
Continue Reading >>> Source link