Frogwares adventure series starring the famous consulting detective makes another leap forward as the just announced next game Crimes & Punishments will be built with the Unreal Engine.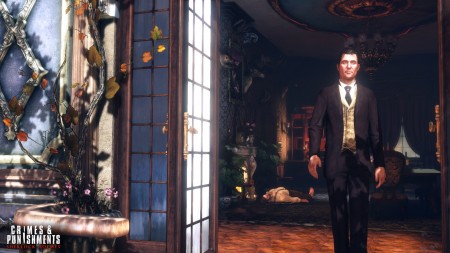 The adventure game's featuring Holmes have actually been around since 2000 and only recently left the traditional 'point and click' style behind with last year's Testament of Sherlock Holmes- but now developer Frogwares is going one step further.
Transitioning away from the company's in house engine and into Epic's Unreal Engine 3, Frogwares hopes to put out their most graphically intense Holmes title to date. One other pretty cool development for fans of the detective is that the game will actually get much deeper into actual detective work, allowing players to conduct their investigations into the game's 8 cases as they see fit.
Unlike the previous adventures of Sherlock Holmes, in Crimes and Punishments you will not be a mere spectator during the detective's investigation. It is now your turn to truly become Sherlock Holmes and lead your own investigation–actually, your investigations, as 8 captivating cases await you! Murders, disappearances, spectacular thefts, and other investigations will bring you to the cutting edge of the detective genre and these cases will be the bread and butter of this game, written in the pure tradition of Conan Doyle's novels. Each case offers real freedom to players, who will have to make important moral choices instead of simply enforcing justice by the book. All decisions have an influence in the game and affect your character's reputation in addition to having realistic, sometimes unexpected, consequences. You will have to bear the weight of your choices, as Crimes and Punishments offers an exciting system of actions/consequences that forces players to think before acting by giving true depth to every decision they make.
And Sherlock will be getting a little more modern in his personal looks too as Frogwares will be leaving the typical Holmes 'look' behind. Keeping with the general pop culture movement that's seen the character updated out of his classic duds, the Holmes of Crimes & Punishments will likewise be showing off a smart new look.
Continue Reading >>> Source link