In 1944 Hellboy was summoned amidst the Nazi Regime. Along with Profesor Trevor Bruttenholm, there was another witness present. Enter The Visitor
Something Is Amiss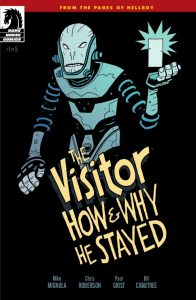 December 23, 1944. Military officers are standing guard, awaiting the next action in their drawn out battle. A nun among them realizes that something is amiss. The spirits are restless. Then the red-skinned, stone-hande demon we have come to know as Hellboy emerges. Of course, the opinions run from Kill it to study it.
One of the officers was actually someone else in disguise. The Visitor. He is receiving a transmission that he has not fulfilled his mission. The real question becomes, why?
What He Found
The Visitor had been sent with the mission of wiping out Anung Un Rama, or Hellboy as he is known to us. He is known as a destroyer to the visitors. However, when our visitor is in the presence of Hellboy, Hellboy is merely a child. A mind still able to be influenced in the ways of right versus wrong. Perhaps he will not be the destroyer they know. The Visitor decides he would rather survey the demon's upbringing. To see, if Hellboy will become the destroyer, or will he be something better?
We see how Hellboy grows up much like an average boy over the years. Learning to ride a bike, reading comic books, even dragging along a pet dog. Nine years later in 1953, we begin to see how Hellboy has taken sides with the B.P.R.D. (Bureau of Paranormal Research & Defense).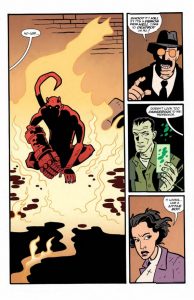 In a battle with a dragon, it looks like our favorite demon has met his match. Then we see the Visitor using his unknown abilities, to influence the way a piece of debris falls. This slight interference gave Hellboy the upper hand, and was able to walk away from the battle.
Better Than Believed
The Visitor had meant merely to observe the events of Hellboy's life, not intervene. Though after several years, he saw the person that Hellboy had grown to be. Not just a demon, but more than that. A man that is using what he has to fight against what will come against him and his team.
The investigation is not over…
Thoughts
With everyone wanting origin stories lately, its nice to see Mignola take a bit of a different swing at things. The outsiders perspective. Seeing some of the struggles Hellboy has to go through, that make him more like a person than even Hellboy may realize sometimes. It should be fun reading how this story arc unfolds.
The Visitor: How And Why He Stayed #1
Writer: Mike Mignola, Chris Roberson
Artist: Paul Grist
Colorist: Bill Crabtree
Cover Artist: Paul Grist
Continue Reading >>> Source link