The Visitor has protected our world against cults, mysterious figures, and even ancient gods. Now he's really beginning to have some fun with his job. Check out The Visitor: How And Why He Stayed #4.
You can find our coverage of #1, #2 #2 and #3.
The Visitor At Home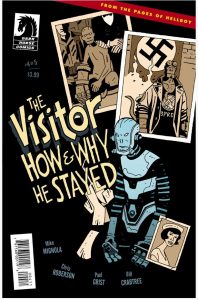 The Visitor has saved the planet from many unknown dangers over the years. Keeping tabs on Hellboy, and protecting us until Big Red is able to take on the mantle of responsibility. Though one thing that you never hear much about is a hero's home life. The Visitor took Ruby as his wife. Which sounds all well and good. However being an alien, the Visitor doesn't age, so he must suffer watching his love grow old. If that isn't enough to struggle with, imagine coming home to a love who is beginning to lost her memories.
We are treated to the daily details of spending time with an aging loved one. Making soup and sandwiches when they aren't feeling well. The comments one might hear for being in an interracial relationship. Best of all, is that his relationship with Ruby was what would change his mind time and time again, showing him that humanity is worth saving, when he himself had given up the hope himself. Watching the trials of the American Civil War was particularly rough. Seeing how humanity has advanced since the stone age, but in one fell swoop, the behavior can harken to a bygone era.
Nature Vs Nurture
The Visitor is a believer that the good in humanity is not innate, that it must be learned. Ruby opened his eyes to the fact that the opposite is also true: evil is not innate to humanity, it must be learned. This is the basis of why the Visitor stayed behind in the first place. His mission was to stop Hellboy from growing up, because of who his parents were. Once he saw that the personality did not fit the demonic profile, he decided he needed to know more.
In Ruby's aging years, the Visitor decided to spend more time at home with his love. He had figured out a way to call in to the BPRD and report issues that needed to be attended to. These issues he used to address himself. Nowadays, he merely lined up practice for Hellboy and his team. Allow them to face the many challenges coming their way. In preparation for what larger threats were lurking in the shadows.
The Visitor's race were blessed or cursed, depending on your opinion. They will remember everything that happened to them, whether good or bad. The chose to use these never straying memories to aid others. Provide wisdom in light of what may face other worlds. It comes to pass that Ruby expires from this existence. The Visitor mourns, though he will never forget the good and bad memories he has of her. Where the Visitor is headed next, we will simply have to wait and see…
The Visitor: How And Why He Stayed #4
Writer: Mike Mignola, Chris Roberson
Artist: Paul Grist
Colorist: Bill Crabtree
Cover Artist: Paul Grist
Continue Reading >>> Source link