The Visitor pays respect to his fallen wife, and settles back into a life of solitude. Growing weary, he gets a message from his people. Check out The Visitor #5.
You can find our coverage of #1, #2 ,#3 and #4 here.
The Visitor #5: Alone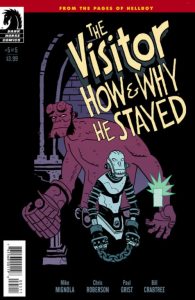 Our Visitor finds it difficult to accept solitude this time around. He begins to have doubts, and even thoughts of something darker. His communicator lights up, and he is able to check in with his people again.
While reporting his findings, he is informed that these things no longer matter. There is an Ogdru Hem bound for Earth as they speak. This must be located immediately. When he succeeds, he may rejoin his people. His period of observation has come to an end.
In Trouble
The Visitor finds himself inside a Nazi German castle, amidst what appears to be a science lab, when he is rendered unconscious and restrained. Coming face to face with an imposing figure bearing a swastika on his forehead, he learns there are larger plans ahead. His daughter is bringing Hellboy and his team to their location. Upon seeing the Visitor, the mysterious granddaughter shoots our hero and leaves him for dead, chained in the dungeon.
Most prisoners would wallow in their grief, give into their pain. Not the Visitor. He invited the granddaughters shooting. He is ready to shed this existence. He has but one thing left to accomplish.
Dungeon Detainee
Some time later, Hellboy is battling a giant gorilla, when it is thrown through one of the dungeon walls. Once Big Red subdues the ape, a mysterious figure calls out to him. The Visitor tells Hellboy he has been watching him since his arrival years prior. How he was sent to kill Hellboy, but chose to let him live. That one of the Ogdru Hem are headed for Earth. Hellboy has fought these creatures before Add to that, the Visitor gives Hellboy a trap with which he can ensnare the approaching demon.
The Visitor knows his time in this existence is drawing to a close. He will not see his people again. He reminds Hellboy of the secrets to the Ogdru Hem. Then he confirms a theory that both he and Hellboy must have had during their lives: to be other than human does not necessarily mean to be less.
Thoughts
I've been a big fan of Hellboy, so it was great to see a new angle on his saga. Mignola never seems to disappoint with these stories. Hellboy, the BPRD, the Visitor, these are great tales to spend an afternoon on.
Continue Reading >>> Source link