Telltale Games has announced that the first episode of one of 2012's very best games is now free to download on the Xbox 360 and PS3.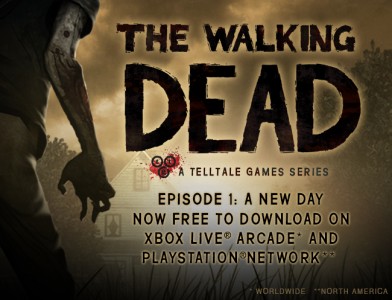 With Season 2 just around the corner (watch your back!) Telltale has dropped the price of the very first episode of Season 1 down to the low, low price of free on both the PSN (in North America only) and Xbox Live (globally). So now you can get started in the world of the walkers for nothing and see where all the hub-bub began about Clem and Lee and just why this game is so darned amazing.
Seriously, if you haven't played The Walking Dead for whatever reason, make it your business to log on and download episode 1 as soon as you can. This is as adult and mature as a 'zombie' game can get with some of the very best storytelling in gaming- not to mention the fact that it single-handedly redefined what people can expect to come from an adventure game experience.
To go along with the new free episode 1, Telltale has also lowered the asking price on the whole of season 1 to $14.99 USD on the PSN in North America. The season is broken up into five parts (including the now free ep.1) and all of 'em are good and well worth your time.
Continue Reading >>> Source link