Take a journey through the world of Marvel Comics' Asgard in this guided tour of the nine realms.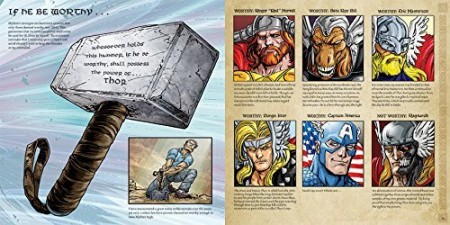 The Mighty Thor has seen a real rejuvenation in the last few years. Thanks to the Marvel Cinematic Universe, which really put the somewhat waning hero back on the map, the God of Thunder has more than made his presence felt in the current Marvel U. Fresh off the excellent comic series Thor: God of Thunder is where we pick things up here, in this newest tome from publisher Insight Editions.
That means that, while the current Thor in the comics is female and the Thor that you know was, until recently, unable to wield his famed hammer (though that looks to have changed as Marvel goes into their Secret Wars crossover), it's the classic version of the character that's covered here. That's probably a good thing too, since most everything down to the actual identity of the female Thor has yet remained a mystery.
And with that in mind, there's tons to cover here in this book. For the most part too, it seems like Insight Editions and author Marc Sumerak did an excellent job recounting… well, pretty much everything from Thor's long run in the Marvel Universe and his life in Asgard. It's more than a simple recounting though, as the book reads like a story from the pages of the comic. The World According to Thor actually tells its tale from the first-person, as though the thunder god himself is recounting things.
With pretty much every other book like this on the market doing the opposite, and presenting a somewhat more clinical and 'encyclopedic' approach, this book feels like something really different, and that's a welcome thing speaking as someone who has a library of books that fit that former description. Also, kind of like those 'vault' books that you see released from time to time, this volume has some pretty cool extras, like a make-your-own papercraft Mjolnir (that's Thor's Uru mallet, if you were wondering), a cover to the Daily Bugle featuring Thor vs Hulk, and a pop-up Thor Frog (yep). There's actually a lot to the book, tons more than I thought there was going to be, and plenty for a long time Marvel fan to dig into.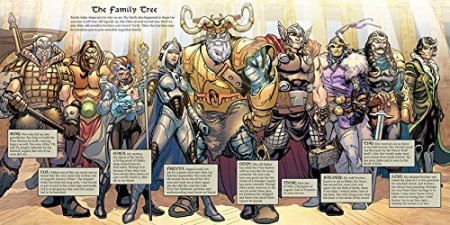 Telling Thor's story is artist Freddie E. Williams II. I wasn't too familiar with Williams, though I did remember the name from somewhere. Turns out that that 'somewhere' was DC Comics' Robin series from a few years back, not that that's all he's done in the comics space. Williams worked as artist on the Flash as well and wrote the book The DC Comics Guide to Digitally Drawing Comics, which is about his specialty, which is digital art.
His work here is nice and comic booky, which is a very good thing, and the art is big and bold, which certainly fits the title character and his world. The color work is also pretty awesome, and the show book is super-bright and vivid.
Final Thoughts
I was more than a little surprised by The World According to Thor, and pleasantly so. I had thought that the book was going to be another cookie-cutter encyclopedia, but it certainly isn't. Thor tells an actual story, not one with a beginning and an end (well, not really), but one that is way more than a cold retelling of story points and factoids.
On top of that, it looks great, and it's loaded up with some genuinely cool features and add-ons. If you're Thor comic fan, or love the Avengers books, then I can almost guarantee that you'll find something to enjoy about this book. Even if you're a Marvel film fan (which this book has nothing to do with), I still think this is worth a look, as there's a ton that you can learn about the iconic Thor from Marvel's comics.
Continue Reading >>> Source link