Thundering all the way from Asgard (or at least, from the factory) are some pretty cool toys based on the upcoming feature film sequel to the original cosmic Marvel flick; Thor: The Dark World.
DST has a pair of lines on the way with both a Minimates series and a Marvel Select line headed to retail for the movie. The Minimates will give fans a chance to collect all the major players from Thor: The Dark World including the man himself, Loki and Malekith.
As far as the Marvel Select offerings go, you can expect to see both Thor and love interest Jane Foster cast in plastic. Both figures come complete with interlocking bases too, so you can pose them together on your Marvel shelf.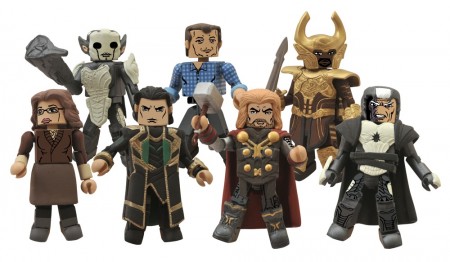 In November, an entire series of 2-inch Marvel Minimates will be dedicated to Thor: The Dark World! The 53rd Marvel assortment at comic shops and specialty stores will include four different two-packs: Thor with Malekith, Loki with Heimdall, Dr. Erik Selvig with Dark Elf and Darcy Lewis with Dark Elf. Designed by the team at Art Asylum, each Minimate stands 2 inches tall and includes a variety of interchangeable parts and accessories, including an alternate head for Malekith, hands for the Dark Elves, a helmet for Loki and bare legs for Selvig.

For those who like their toys a little bigger, Thor and Jane Foster will each get a 7-inch-scale figure in the Marvel Select action figure line, featuring the likenesses of Chris Hemsworth and Natalie Portman! Designed by Gentle Giant Studios, each figure will have 16 points of articulation, and each will come packaged with half of a detailed diorama based on the film. Connect them together to re-create the movie at home! Look for Thor to hit comic shops and specialty stores starting in November, followed by Jane later in the month.
…am I alone in being a little frightened by the 'bare legs for Selvig' accessory?
All of this Thor-tastic stuff will be hitting retail shops in November- but not Toys R Us'. Unlike some of Diamond Select's other Marvel items, the Thor lines will not be making the trip across the Bifrost onto the shelves of the mighty toy retailer. All of the Minimates and Marvel Select figures that you see here are comic and specialty shop exclusives.
Thor: The Dark World arrives in theaters on November 8th.
Continue Reading >>> Source link