Past meets present as EA unveils the cover for the 2013 edition of Tiger Woods PGA Tour 14: The Masters Historic Edition.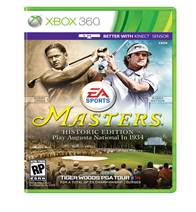 Golf fans take note as past meets present great with both Bobby Jones and Bubba Watson featured on the cover of The Masters Historic Edition of Tiger Woods PGA Tour 14.
Bobby Jones was the dominant force in the game of golf from the early 1920s through 1930. Between 1923 and 1930, he won 13 of the 21 major championships he entered, including the Grand Slam in 1930. His record includes five U.S. Amateur Championships, one British Amateur Championship, four U.S. Open Championships and three British Open Championships.

Jones retired from golf after his Grand Slam year at the age of 28. Soon thereafter, he partnered with Clifford Roberts to realize his dream of building his ideal golf course. By 1933, Augusta National Golf Club held its formal opening. Then, as a way to provide a service to golf by hosting a tournament, Jones and Roberts decided to hold an annual event in 1934. The name Augusta National Invitation Tournament was adopted and the title was used for five years until 1939 when the name was officially changed to the Masters Tournament.

Among its many unique offerings, The Masters Historic Edition will not only feature Jones as a playable character, but it will also allow users the ability to play Augusta National Golf Club in 1934, plus 24 additional championship courses.

Jones will share the cover with Watson, who won his first Green Jacket this past April. Watson's high, hooking wedge from the trees right of No. 10 fairway allowed him to make par and win on the second hole of a sudden-death playoff.
Those wondering where Mr.Woods himself is can rest assured that he's definitely still on the cover of his own game- just not one the Historic Edition's cover. Tiger will be appearing on the standard version's box front along with all time great Arnold Palmer.
Continue Reading >>> Source link