From the 'completely missed this' file: volumes 1 through 14 of TWD are half price right now and the first 99 single issues are priced under a dollar on comiXology- but only until 11pm EST!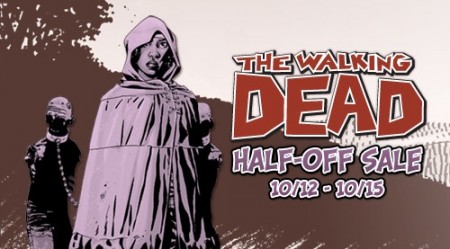 The sale actually started on the 12th, which was Friday, as a kick-off/tie-in for the debut of the television adaptation's third season on AMC.
"All The Walking Dead TV show fans should discover the original source material for the show," said David Steinberger, co-founder and CEO of comiXology. "If you have enjoyed The Walking Dead TV show, but have yet to dive in to the comic, this sale is one of the best opportunities to experience the real deal. "
So the good news is that you (and I) didn't miss out completely because the sale is still on till 11pm Eastern today. That means that the first 99 single issues of the book are .99 USD on the comiXology digital reading platform and volumes 1-14 (collected) are half price. Now that's a lot of rot for your buck.
And just in time for Halloween too- check out the deal in full, here. And hurry up would you?
Continue Reading >>> Source link