This week's Nintendo Download sports a pretty broad range of games, and the first ever Nintendo cross-play title.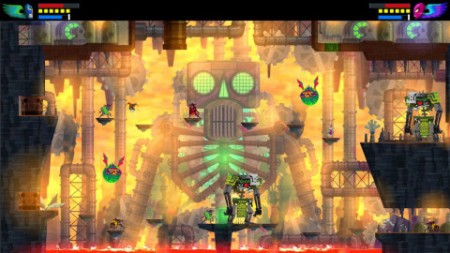 Guacamelee! Super Turbo Championship Edition makes its debut on the 3DS this week, and if you've played any of the previous incarnations of they side-scrolling action title, then you already know it's a goodie. Heavily influenced with a Mexican vibe, there's tons to do in this Metroidvania action title.
Tomodachi Life also debuts this week in free demo form. You can get a pretty good feel for the title in this shortened edition and can actually transfer your save to the full version if you like it enough to buy, which is pretty great. And finally in the headline games this week is Squids Odyssey. This little tactical RPG has a number of things going for it, chief among them being the fact that its cross-buy enabled.
So basically, if you buy on the 3DS, you can then play on the Wii U as well after you download the game there. It's a scheme that Sony has been using for some time as to the PSP/Vita and PS3/4, and it seems obvious that Nintendo would start to use it here on the 3Ds/Wii U combo as well. Curiously enough, the actual Nintendo Download press release (which you see below) doesn't even mention the fact though. Seems like something that they'd play up, no?
Anyway, here's your update in full for your 4th of July downloading pleasure:
Nintendo eShop on Nintendo 3DS

Tomodachi Life – Free Demo Version – Try it before you buy it. Download the free demo version of Tomodachi Life and see what happens when you set your Mii population loose on hilarious adventures. Then transfer your progress to the full game if you later purchase it.
Squids Odyssey – Squids Odyssey is a unique mix of an action and turn-based RPG. With their colorful realm under siege, a scrappy shoal of Squid heroes has no other choice but to fight back. Build your team of heroes and throw them into epic turn-based battles against corrupted crabs and shrimps.Squids Odyssey includes the two original campaigns from SQUIDS and SQUIDS Wild West, along with original content. Click hereto check out the trailer for Squids Odyssey.

Nintendo eShop on Wii U

Guacamelee! Super Turbo Championship Edition – Guacamelee! is an action-platformer set in a magical, Mexican-inspired world. Explore lively towns and dangerous temples, unlock new luchador powers and suplex some skeletons in this expanded version of the original game. Enjoy off-TV play or track your progress through the world using the map on the Wii U GamePad controller. Click here to watch the latest trailer for Guacamelee! Super Turbo Championship Edition.
Armillo – Armillo is a 3D action-platformer with a massive amount of game-play elements that mix the classic with the new. Roll, jump and boost through multiple spherical worlds as Armillo, a space armadillo. The game features off-TV play, Wii U Pro Controller support and an optional tilt control mechanism. Click here to watch the latest trailer.

Virtual Console on Wii U

Mario Tennis: Power Tour – Think you've got the strokes to go toe-to-toe with the best tennis players in the Mario universe? Go head-to-head in a single match, or team up with another character and play doubles. Set out on a journey to greatness and test your topspin in this role-playing sports adventure. Customize your stats and equip Power Shots to send your opponents reeling. Can you defeat the current champions and become the top-ranked tennis player?

Nintendo eShop Sales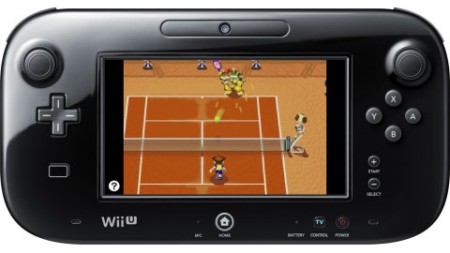 Price reduction:
Just Dance 2014 is being reduced to $39.99 from $49.99 starting July 7 in the Nintendo eShop on Wii U.
Also new this week:
Continue Reading >>> Source link