The first piece of merchandise from one of Dark Horse Comics' newest hit series' is ready for debut at the upcoming Toy Fair with a bits of  Criminal Macabre's 'hero' Cal McDonald.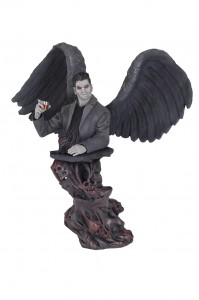 Cal's never looked… better… in this bust, set to be available this coming August from Dark Horse Comics. It's quite possibly the first piece of merchandise available from the collection of mini-series' that bear the Criminal Macabre name (I can't remember any others), and the line is starting off with a bang.
Sculpted by William Paquet, the 14″ tall bust features a pair of display options, both of which show off McDonald in his usual bruised-up motif. The difference of course, being that he's got his massive wings (a recent edition in the books) spread in one look and collapsed in the other.
As for the character and series' creator Steve Niles, he's pleased as punch with the final product.
"I am thrilled with what they've done with the sculpt of Cal. It's an absolutely gorgeous piece of work. Criminal Macabre fans will be blown away," remarked creator Steve Niles.
As a fan of the books myself, I'm happy to agree, and pretty darned interested to see the actual piece at Toy Fair in NY next weekend. When Cal here hits the shelves in August of this year, he'll be priced at  $149.99 USD and come complete with a signed certificate of authenticity that's been auto'd by Paquet and Niles both.
Continue Reading >>> Source link