The second part of Mezco's Batman "action figure trilogy" has been revealed. The Sovereign Knight is on the way, and he's looking freaking awesome.
Sovereign
The sixth official reveal from Mezco Toys in their early Toy Fair peek series is the Sovereign Knight. This is the second of three comic-flavored Batman One:12 Collective figures that the company is producing, and man is it cool.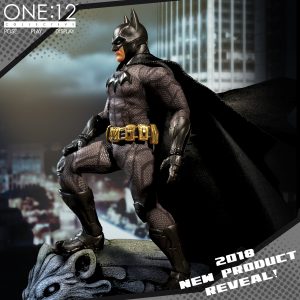 Granted this is only a single shot pic of what the final figure will look like. Even from this early look though, he is just about as great as any fan could've hoped.
I mean, look at that cowl. Look at the sculpting around the eyes and nose – it's perfect. I love the detailing on the suit too, which looks like the armor plating that the character is currently (usually) shown with. It kinda comes across like a mix of looks from the modern comics and the Arkham video game series. And wow is that fine with me.
Again this is just an early look, so there's been no detail on availability yet. But we do have an official rundown from Mezco. And it makes this figure seem even cooler with some excellent-sounding accessories.
The Sovereign Knight is the 2nd installment to Mezco's One:12 Collective Batman trilogy. Sovereign Knight is the Batman of right now, in his prime. Bruce Wayne has enhanced his tech greatly from the beginning of his war on crime. The Bat-Suit has been augmented to provide more protection and greater mobility. His Batarangs honed, Grappling Gun upgraded and new additions to his arsenal like a Sonic Disruptor, Bat-Drone and Kryptonite Knuckle Dusters.
And now I officially can't wait for part three. Stay tuned for more on this one though, as we get into Toy Fair. We'll have plenty of pics from the show floor.
Continue Reading >>> Source link