Man does Valiant have some awesome retro merchandise set for sale at this weekend's Phoenix Comic Con. That's not all though, as the publisher has the usual assortment of can't miss panels, guests and more on tap as well.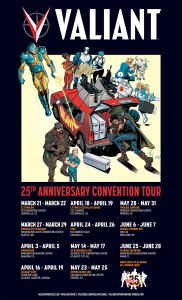 Yet another leg of the Valiant 25th anniversary tour here in 2015, Phoenix Comic Con is looking like as big a show as any other for the company. Aside from the awesome tees (that you'll see in the gallery below) that they'll have on sale, you'll also be able to buy  limited edition copies of Ninjak #1, Bloodshot Reborn #1, Dead Drop #1, and more at the booth.
And on top of that, you can also catch colorist David Baron (who works on Bloodshot Reborn and Divinity) signing autographs at the Valiant booth all weekend. Then there's the panel, which'll be held on Friday, May 29th at 1:30 pm in Room North 231. There you'll be able to sit in on Valiant 101: The Story Starts Here, which is all about the origins of Valiant's heroes and villains. So if you're looking to just get started in their world, then you'll want to attend this one.
Everything takes place in Phoenix, AZ this Thursday through Sunday, May 28th through the 31st.
Continue Reading >>> Source link