Dark Horse Comics and IDW are teaming to remake a classic team-up. Yep, the TMNT and Usagi Yojimbo are back together again.
Classic characters, classic team-up
"I had wanted to reunite Usagi and the TMNT for a while, but these are not the Turtles that he knew," said Sakai. "Relationships have to be reestablished, suspicions overcome, and trust earned. The survival of all Japan literally rests on them working as a team."
That's Stan Sakai there, the creator of Usagi, talking about the latest teaming of his samurai rabbit and nickelodeon's Teenage Mutant Ninja Turtles. The heroes have actually teamed more than once before too, so this is nothing new. Their comics, cartoons, and even toy lines have crossed over in the past. So forging a new alliance between the heroes seems like a natural step. That's true even across publishing lines.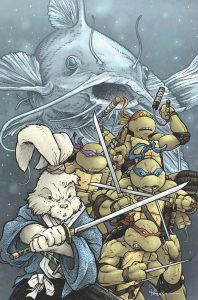 The Turtles are of course published by IDW at present, with Usagi sitting in the stable of Dark Horse. Still though, this is a story that just kinda begs to be made. Not that there's too much info on the actual narrative right now. What we do know though, is that the TMNT and Usagi will be up against the villainous Jei, which I assume will be taking place in Usagi's world.
And that would mean that the Turtles would be crossing dimensional barriers in the tale. Don't forget that, unlike the mean green teens, Yojimbo isn't a mutant. He's from a universe (ancient Japan actually) that's populated by races of anthropomorphic animals instead of humans. So kind of a cool note there too.
Here's what TMNT co-creator Kevin Eastman had to say about the upcoming event:
"Stan and I both started out the same year, 1984, and here we are still living the dream telling stories with characters we created over three decades ago," said Kevin Eastman, cocreator of the Teenage Mutant Ninja Turtles. "I love the fact that our two creations were intertwined from the beginning and could not be more thrilled that Stan is coming back to tell a new story in the IDW TMNT comics universe."
The first issue of the miniseries will be available this coming July, so keep an eye out.
Continue Reading >>> Source link