There's a psycho-powered one shot on the way from Udon with the Street Fighter: Shadaloo Special.
Psycho-Crusher!
Street Fighter fans have had it pretty good the last couple of years with Udon. The publisher has regularly produced a stream of art books and comics featuring the World Warriors, and they've been consistently fun.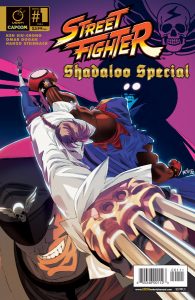 Now the company is pushing things to the dark side a bit. The Shadaloo Special focuses on M.Bison's evil organization, with a four-pack of short stories that previously appeared only in Udon's hardcover collections. So yeah, these aren't "new" exactly, but they're not all that common either.
This villainous collection of rare tales includes two stories by writer Ken Siu-Chong and artist Hanzo Steinbach, and two stories both written and drawn by Omar Dogan. Balrog and Vega fight as only kings can! Juri and Crimson Viper hunt Decapre! Cammy teams up with Delta Red against Shadaloo, and the poisonous F.A.N.G causes mayhem!
Watch of the book to hit stores on December 6th, along with a slate of variant covers. Hanzo Steinbach, Ryan Kinnaird, Panzer, and Warren Louw have all contributed to those, with Louw's being an internet exclusive Cammy variant. That one is available in red, or blue. Both are up for pre-order right here. Keep in mind though, that the blue one is limited to 250 pieces.
Continue Reading >>> Source link