Did you miss out on the original run of Udon's Street Fighter comics? You now have another chance, as the six-issue mini is getting Reloaded.
Hadokenagain
I wouldn't blame you any if you missed the first mini-series that Udon published as goes Street Fighter. After all, the company is really much better known as an art book publisher, than a comic producer.
Since then though, Udon has gone on to present some memorable books based on the World Warriors. Their latest is a super cool crossover story, featuring none other than Capcom's Darkstalkers. That's some serious fighting game geek cred there.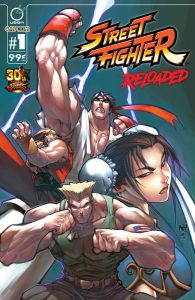 So if you were a latecomer, or still not reading for some reason, I have some good news; the first run is officially Reloaded.
Street Fighter Reloaded is set to debut on the racks this November, and will be value priced at one .99 an issue. There'll be six of those by the way, as this re-telling from 2003 re-tells writer Ken Siu-Chong and artists Arnold Tsang and Alvin Lee groundbreaking tale.
Each issue will sport a bonus story too, as well as some neat-o variant cover art. Who might these stories be by, you ask? How 'bout the likes of Joe Madureira and Adam Warren for a first issue that'll have cover art by J. Scott Campbell? Later issues? Expect bonuses from talent like Kaare Andrews, Kevin Lau, and Hyung-Tae Kim. Yes, this is some good stuff. And yes, it's still cool even if you remember this series.
The first two books in the set will arrive this November, followed by the same pacing. So issues number three and four will hit in December, before being rounded out by five and six in January.
Continue Reading >>> Source link