Accell's newest PC add-on transforms that DisplayPort (or mini) into a spare DVI connection. Can you say 'second screen'?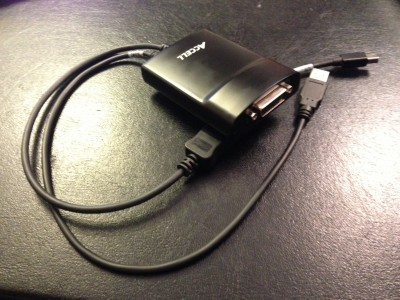 Admittedly, I have an older PC. My rig was a custom built machine with a cross-section of… lets say 'not top tier' parts… when I put it together a few years back. Now, that's not to say that the little guy can't cook.
I can still run pretty much any game at reasonable graphic levels with decent frame rates. Just so there's no confusion- it does the job is what I'm saying. One thing that I'm lacking though, is a second DVI display port. Yes, I said second. I told you, it isn't the best card in the world okay?
That said, having a dual monitor setup was always something I was interested in. Access to a pair of screens, aside from just being plain old looking cool on the desk, can be a boon in a number of ways for someone who uses computers as much as I do.
Fixing that particular issue is the UltraAV DisplayPort to DVI-D Dual Link adapter from Accell. This handy little gadget takes any DisplayPort (even a mini using the included adapter) and turns it into a full fledged high quality DVI connection. And it actually works- always a nice feature.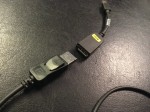 Setup is super easy as you very simply pop the DisplayPort or mini-DisplayPort cable into the output on the rear access panel of your video card. The mini-DisplayPort adapter even has the added security feature of a 'lock' on the dongle (the 'click' is extremely satisfying BTW) to make sure it isn't going anywhere once it's in place.
The second connection you need to make (and this is where some might get a case of the 'uh-ohs') is to plug in the USB power source. There's no power brick or plug as the USB draws power to run the adapter directly from your machine. The issue there is that it does (obviously) take up a USB port. I have a decent amount of them on my PC, so there was no issue, but I know that's not everyone. If you're USB-strapped, you might want to consider picking up a hub to go along with the adapter though, as it will cut down your supply of available ports.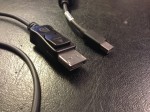 Other than that though, you're all set. Just attach your DVI cable and you're good to go. That's another thing you'll need to have on hand by the way, because there's no DVI cable in the box. It's a little bit of a drag but honestly, the adapter already isn't cheap and adding a cable in the box would have added a decent amount of cash onto the price tag. Still, it would have been nice.
Performance however, isn't lacking at all and pretty much makes all the minor inconveniences worth it. I got a perfect picture with no interference/oddities whatsoever. It's pretty darned capable too as the Accell supports resolutions up to 2560×1600 at 60hz or 1920×1080 at 120hz on a 3D supported device. It'll even support a projector as well at a res of 1920×1200 at 120hz . I didn't get the chance to try out the 3D support, but that's a nice addition that a I'm sure quite a few gamers will be interested in putting to good use.
As far as construction goes, the Accell looks to be really well made. The cabling seems quite durable with thick, chunky wires that I can't see wearing out all that quickly and the adapter itself has a metal body that I really like. Maybe the only down side of it is that as cool as it looks, it is a little on the big side. There's really nothing you're going to do about that since it kind of 'is what it is' and it's not like it's sitting on the desktop so it shouldn't really be an issue for anyone but the most persnickety.
Final Thoughts
I really like the Accell UltraAV DisplayPort to DVI-D DualLink Adapter. With this kind of a device it's not about bells and whistles, but performance and how well it works. And Accell has made an adapter that does just that- it works.
As you (hopefully) read, there's no setup really and everything is plug and play in the truest sense of the word. If you're looking for something that can actually make use of that DisplayPort and want to add on a second (or third!) monitor, the Accell fits the bill nicely. Just remember, when you get the adapter, make sure you pick up all the extras you'll need to get going along with it.
Continue Reading >>> Source link