One big, bad volume of Must Read Valiant is on the way this January.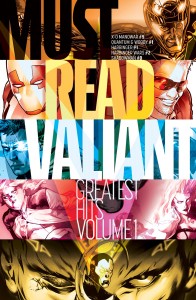 As an initiative, Must Read Valiant has so far focused on new monthlies, headlining across several of Valiant Comics' books that match the slogan- which is probably all of them at this point. Must read Valiant: Greatest Hits #1 though, is a whole different animal.
"One of our major obstacles is that everything we've put out has been so well received. Potential new readers are hearing good things about all of our books, which makes it difficult to know where to start reading. At New York Comic-Con this past weekend, we heard the same question again and again: 'I've heard great things, my friends love Valiant, but no one can agree where I should start. Can you help?'" said Valiant CEO & Chief Creative Officer Dinesh Shamdasani. "MUST READ VALIANT: GREATEST HITS #1 is the perfect answer. This is a collection of the five single issues we've found to be most effective at giving new readers a clean entry point and a taste for more."
We've actually run a bunch of reviews here on BG for Valiant's titles and they're almost all superb reads, so I don't doubt that that's an actual concern for fans- or prospective fans at any rate. You can actually start pretty much anywhere as Valiant's comics aren't bogged down with decades of backstory and bloat (not yet anyway), but even so, the Greatest Hits format is a terrific idea.
Five big issues, all of 'em field tested as eye-catchers, all wrapped up in one big 100 page tome. That's hard to pass up and a perfectly tailored entry into the universe. Must Read Valiant: Greatest Hits #1 lands on stands on January 15th and will cost you a paltry $5.99 USD, which is seriously a great price for what you're getting.
As for Valiant's monthly titles that will bear the MRV banner, here's a rundown so you can check 'em off:
Quantum and Woody #5 by James Asmus and Ming Doyle
Shadowman #13 by Peter Milligan and Roberto De La Torre
Bloodshot and H.A.R.D. Corps #18 by Christos Gage, Joshua Dysart and Bart Sears
Harbinger #20 by Joshua Dysart and Clayton Henry
Eternal Warrior #5 by Greg Pak and Diego Bernard
Continue Reading >>> Source link