Valiant's dynamic, conspiracy busting duo are going to be movie stars.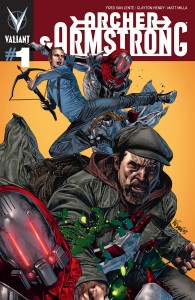 Writer BenDavid Grabinski will handle the script for the newly announced film while Sean Daniel, Jason Brown, and Dinesh Shamdasani will serve as producers in what's to be Valiant's first foray not major motion pictures. The comic, about an immortal and an assassin who team up to smash global conspirators and other baddies, was optioned by Sony pictures who currently produces the Spider-Man movies.
"ARCHER & ARMSTRONG is one of the greatest untapped franchises in comics, and BenDavid's script is delivering a vision for these characters that has made us all very, very excited," said Sean Daniel. "The movie is about the relationship between these two amazing characters, the comic clash between optimism and pessimism, and how family is the most important unifier. It combines globe-spanning action with BenDavid's singular sense of humor, and is rooted in resonant themes that give it a powerful emotional core."

"We couldn't have more apt partners than Sean Daniel – who, as an executive at Universal, shepherded the seminal movies in the genre in BLUES BROTHERS, MIDNIGHT RUN, and ANIMAL HOUSE – and BenDavid Grabinski, who just turned in a truly awesome adaptation," said Valiant CEO & Chief Creative Officer Dinesh Shamdasani. "We're bringing the same quality and creativity that established our success in comics to our film and television adaptations. SHADOWMAN, BLOODSHOT, and ARCHER & ARMSTRONG are just the beginning."
I have to wonder here, with the Spidey film talk of an expanded universe having all but stopped at Sony and the Venom and Sinister Six movies seemingly put on the indefinite back burner, might this mean more than just a solo A&A flick on the boards for Valiant? There's certainly nothing to report on the matter, but we already know Sony is high on the superhero genre from their former plans for Marvel's web-head, if Archer & Armstrong is a hit I could easily see them moving forward with a Valiant shared universe not eh big screen.
The company has a ton of characters that'd be perfectly well suited for that too like Shadowman, the Harbinger cast, Eternal Warrior, and of course- X-O Manowar. With some of the best books on the market today, I'd personally love to see Valiant's cadre of heroes going toe-to-toe on the big screen.
If appetites stay the same with the general populace as to superhero movies, and they seem to be, then I think there's more than enough room for three shared universes on the silver screen. Stay tuned, at the very least, Archer & Armstrong is going to be a fun film to watch.
Continue Reading >>> Source link