Publisher Valiant Comics has a very impressive sounding 8bit-style game on the way for iOS and Android devices- and they all look awesome.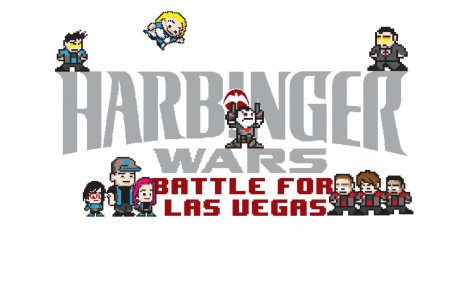 If you're a Valiant fan, then this game's kind of a no brainer as it ties in directly to the company's big Harbinger Wars crossover event. I have the distinct feeling though, that fans of video game history in general are going to eat this bad boy up as well.
Harbinger Wars: Battle for Las Vegas is a side-scrolling action title done very much in the 8bit style and will be a free download. The game follows along with the events of Harbinger Wars and its main protagonists- Bloodshot and Peter Stanchek of the Renegades.
Developed by Storm City Entertainment, Harbinger Wars: Battle for Las Vegas offers fans the chance to follow nanite-enhanced commando Bloodshot or teenage telekinetic Peter Stanchek as they fight their way out of a classified Project Rising Spirit compound and into a psiot-occupied casino on the Vegas strip. Following the release of each of Harbinger Wars' four issues, fans will be offered the opportunity to download new levels, each based around plot developments and settings presented in the Valiant mini-series by writers Joshua Dysart and Duane Swierczynski and artist Clayton Henry. In-app purchases will also allow users to acquire a variety of new weapons and characters as the game progresses, including Toyo Harada, newly introduced members of the H.A.R.D. Corps, and more.
And if that sounds good, check this out- Valiant will be spreading the classic gaming lovefest even further as they'll be publishing a series of special variant covers for their lineup of monthlies. Artist Matthew Waite will be doing the work and the special editions will include variants of X-O Manowar #14, Harbinger #13, Bloodshot #12, Archer & Armstrong #10 and Shadowman #7. Each cover has been crafted to look like a classic game from the golden age of gaming – but with Valiant Comics' characters taking the starring roles.

"With Harbinger Wars: Battle for Las Vegas, we're striving to achieve the perfect synergy of gameplay and story," said Valiant Chief Creative Officer Dinesh Shamdasani. "The events of the Harbinger Wars series will be reflected monthly in the game itself and we'll also be paying homage to the 8-bit style with a line of non-incentive 8-bit covers for our June comic releases. This has been a tremendously fun initiative to work on, and one that we think fans and retailers will respond to as well."
I have one problem with all this; while Harbinger Wars is inbound for mobiles of the Android and iOS variety for April 3rd, I want to play the games based on the other Valiant heroes too! They all look awesome, especially that Shadowman/Final Fantasy mashup.
Continue Reading >>> Source link