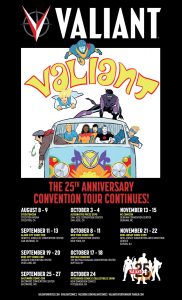 The tour is going strong with four more stops in its cross-country celebration of the largest independent superhero universe in comics!
First, for the next two days, Valiant is headed north for Buffalo Comicon 2015.  All weekend long, join Valiant at the Buffalo Niagara Convention Center's Upper Level, Section E,  to learn why Valiant is the hottest publisher in comics with a selection of Valiant's Volume 1 trade paperbacks and hardcovers, including X-O MANOWAR, BLOODSHOT, NINJAK, THE DEATH-DEFYING DR. MIRAGE, and many more making for a perfect ground-floor entry into the Valiant Universe.
Today at 12:00 p.m. (it's only 11:00 here, but yes, I know that I may be too late in posting the info for this panel) in Room #106 B+C, come aboard with Valiant 101:  New Fans Start Here-a concise and fun-filled introduction to Valiant's biggest and most memorable characters.  Looking for where to start with Valiant?  Then this is the panel for you!
Valiant's 25th Anniversary Convention  Tour continues throughout the fall with newly added dates, including:  The Pittsburgh Comic and Collectible Show (October 24th),  NC Comicon (November 13th-November 15th), and the New Jersey Comic Expo (November 21st to November 22nd).
Continue Reading >>> Source link