The Steam version of NeocoreGames' The Incredible Adventures of Van Helsing has a brand new piece of royal DLC.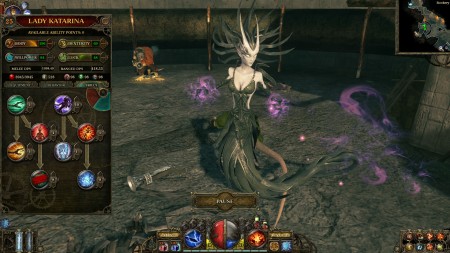 Van Helsing's 'assistant', the spirit Katerina, is actually the recipient of the new downloadable content pack called 'Blue Blood'. The offering boosts Katerina's abilities and also adds in some new ones including the power to make duplicates of herself to aid in battle and a whole new skill tree for the character.
Blue Blood enables players to turn their female ghost companion Lady Katarina into a more efficient monster hunter by introducing a new accessory that opens up a new skill tree. Eight brand new skills are now available to Katarina including Wraith Frenzy that boosts her attack rate and Chillwave, which creates an aura that will decrease enemy movement, attack, and casting speeds. She also has new abilities such as summoning two ghost mirages of herself to fight alongside Van Helsing and the chance for Katarina to earn hit points for each Rage point spent.
There's also a new expansion to 'Scenario Mode' as well. The add-on gives Van Helsing a new system of rewards for vanquishing enemies and adds two new scenarios that take place in the Rookery and Croakwood areas. The rewards are pretty, uh, rewarding too and allow players to gain Glory for killing monsters which they can then spend on bonuses for any in game character they've created.
At only $1.99 USD, that's a pretty decent amount of content for you money- just keep in mind this DLC is applicable to the Steam version of the game only. It won't work with a copy gotten anywhere else but Valve's online storefront.
We reviewed The Incredible Adventures of Van Helsing a short time ago and found it to be "a truly enjoyable experience"; scoring it with a 7.0. You can check out our full take on the game here.
Continue Reading >>> Source link