Long time Adult Swim 'toon The Venture Bros is entering it's fifth season on the Cartoon Network and to celebrate, everything from Avatar clothing to free episodes are up on Xbox Live right now.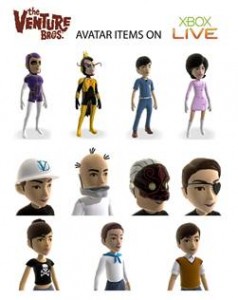 The Venture's are getting around quite a bit as of late with an appearance in Poker Night 2 (by Brock Samson) and now a series of neat offerings on Xbox Live. I hadn't realized it, but seasons 1-4 are actually available on Live and had been for some time; a fact that particularly cool as season five is just around the corner. And even if you've seen all that the first four seasons have to offer already, there's still something for you to watch on Live as the opening episode of the brand new season -What Color is Your Cleansuit?- is free for Live subscribers through June 9th.
As far as goodies go, a whole bunch of iconic show ware is up right now for you to dress your Avatar in including: Hank and Dean's iconic tops, Molotov's eye patch, Sergeant Hatred's helmet, Dr. Killinger's mask, Baron Underbheit's jaw, Triana's top and sweet costumes for Dr. Girlfriend, The Monarch, Phantom Limb and Speedsuit.
Picking up just a few minutes after the climax of season 4, season 5 is going to be a star-studded affair. Expect to hear the vocal stylings of the likes of Aziz Ansari, Paget Brewster, Wyatt Cenac, Kevin Conroy, Bill Hader, John Hodgman, Gillian Jacobs, Kate McKinnon, Tim Meadows, J.K. Simmons, and Brendon Small- all of whom will be taking parts on what's become one of the biggest shows on Adult Swim.
Season 5 of The Venture Bros from Titmouse, Inc airs on Sundays at 12 midnight ET/PT.
Continue Reading >>> Source link