Diamond Select Toys has a line of Minimates based on the films of movie maker and geeky icon Kevin Smith on the way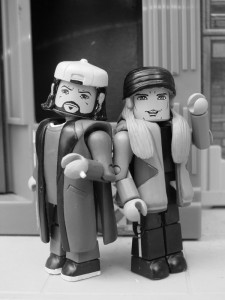 There aren't really what you normally think of when you think Minimates. There are no superheroes or sci-fi space marines, just a pair of goofballs out to cause some trouble and say things that make no sense… well, one of them anyway. The other dude doesn't actually say anything.
The line will debut at the SDCC next month and will encompass all of the 'View Askew' universe (there's a View Askew universe?!) characters and films. For Smith fans, this is pure gold as collectibles from the movies are few and far between- and that's probably being overly generous.
Available at the con will be the first set in the series and, of course, it's going to be Jay and Silent Bob. The twosome will be available in what'll be the standard 'full color' format or a very special SDCC exclusive black & white variant to reflect their look in the original Clerks film where they made their first appearance (it was shot in black & white).
Clerks is far from where the license ends though as you can expect to see Minimates from Mallrats, Chasing Amy, Clerks 2 and Jay and Silent Bob Strike Back as well. Each mini-figure will stand in at the usual 2″ and come complete with as assortment of interchangable parts and accessories.
If you'd like to take lil' Jay and Silent Bob home with you from sunny San Diego, just pay a visit to booth #2607 (that's where Diamond will be set up). The two-pack will cost you $10 USD.
Continue Reading >>> Source link