Well, firstly, it's not really Deadpool #250- and secondly, maybe.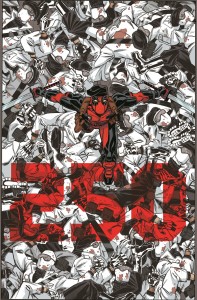 I've got a feeling that we're not really seeing the end of Deadpool here in the 250th appearance of the character (which is where they're getting the numbering by the way). Aside from the fact that there's really no way to kill the louse, he's one of the publisher's biggest heroes and is super-popular. Still though, that didn't stop them from doing away with Wolverine, and writer Gerry Duggan is pretty convincing when he talks bout the whole thing,
"This is something we've been naturally building towards," says writer Gerry Duggan speaking with Marvel.com. "This isn't being done lightly. It always comes down to what we think is right and Marvel has been very kind and gracious with us and let us get away with murder: in a literal sense."

"I have no problem telling you I've always wanted to kill Deadpool and not just kill him but kill him in the way that we are killing him."
The main narrative in the issue surrounds Ultimatum, who'll be coming after Wade en masse for a massive brawl for it all. And if this really is Deadpool's last hurrah, I imagine that he'll be taking a good chunk of them along for the ride. And when you're done reading that, there's even more 'Pool to be had this issue with a backup story that tells about that time Wade got ahold of the Infinity Gauntlet… yep.
Capping things off for the monster issue, is a "line-up of celebrities, comedians and friends" from across the entertainment spectrum, all there to pay tribute to the character. Scheduled to be included are Paul Scheer, Nick Giovannetti, Scott Aukerman, Ben Acker, Ben Blacker, Jason Mantzoukas, Mike Drucker and more. Needless to say, it should be quite the issue.
Deadpool #250 hits the racks and ends the career of the Merc with a mouth this coming April.
Continue Reading >>> Source link