Available right now for pre-order on Kindle, Devil's Due's How To Self-Publish Comics: Not Just Create Them – The Master Edition is something you might be interested in if you fancy yourself a budding comic book creator.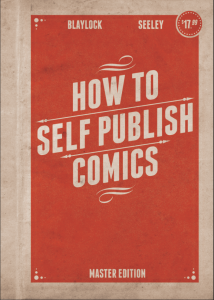 It's a whole new year, and with that, there are probably more than a few of you out there who'd like to get some new venture off the ground. If some of those thoughts involve comic books, then you'll  probably be interested in this book. How To Self-Publish Comics: Not Just Create Them – The Master Edition, by Josh Blaylock, is fresh from Kickstarter and covers the all important methods of getting your finished comic into the hands of an audience, which is kind of incredibly important if you'd like said book to go anywhere or be, you know, appreciated by readers. This re-release of the sold out 2012 edition includes additions by industry luminary Tim Seeley, who goes behind the scenes as an artist to give you even more info about the biz.
Now, if you pledged on Kickstarter for this Kindle edition of the book, you've already got your copy coming annd you'll be able to download it a few days before the official release on the 28th of this month. If not though, there's still plenty of time to pre-up and get your digital edition secured via Amazon. For only $4.99 USD, it's kind of a no-brainer if you're interested in getting your work seen and read.
And if you'd like to take things one step further, the book also has a Facebook group you can join. Devil's Due promises that this is a place where you can get all your burning questions answered "without a single ounce of shame". And that kind of speaks volumes. You can join right here.
Continue Reading >>> Source link