It's going to be a big half-decade for fans of the Justice League and DC's stage of heroes.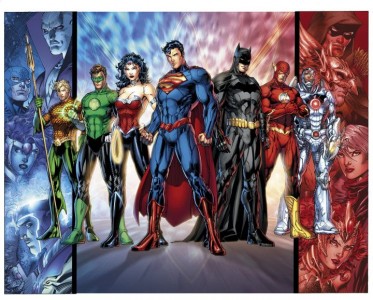 In front of a room full of investor, Warner Bros. CEO Kevin Tsujihara laid bare the company's plans as goes the DC Universe on film. It's not all that dissimilar from the rumored slate of DC movies that popped up online earlier this year, and it's got some very cool possibilities too.
The first two movies out of the gate will be Batman v Superman: Dawn of Justice in 2016, along with the surprise announcement of Suicide Squad, which'll be hitting on August 5th, 2016. Then the very next year, a solo Wonder Woman film starring Gal Godot will debut on June 23rd. That's a few months before the full-on Justice LEage movie opens up on November 10th.
Moving onto 2018, The Flash will get his shot at the silver screen and will be played not by TV Flash Grant Gustin, but actor Ezra Miller. That movie lands on March 23rd, and will be followed right behind by Aquaman on July 27th, which will indeed star the long-rumored Jason Momoa. Looks like he was yanking our collective chain all along after all.
2019 will see the launch of Shazam with Dwayne Johnson as Black Adam (no one official yet for Cap… uh I mean Shazam) on April 5th, with a Justice League sequel coming on June 14th. And rounding out the official announcements are two more films in 2020. The first is a Cyborg movie starring Ray Fisher, which'll hit on April 3rd, and the second is a Green Lantern reboot, which you can expect on June 19th of that year.
Wondering what's happening with the true Man of Steel sequel and a solo Batman flick? Both are also on the way, but nothing is set in stone yet, unlike the above feature set. And it should probably go without saying, but all the above movies will star Henry Cavill and Ben Affleck as Superman and the Dark Knight respectively.
As a fan myself, I'm looking forward to seeing what Warners does with these movies, and I love the aggressive attitude they're taking towards getting all these classic heroes on film and into theaters. Probably the only thing I really don't care for is that the TV and movie universe will be separate beasts.
To me, this makes little sense at all, since there's already a solid DC Universe established on TV with Arrow and now The Flash (and soon, Constantine). It just doesn't compute with me that Warner Bros would not want that history to gel with the movies and play off the fans that the shows have or will have amassed. It's… weird.
Doesn't temper my enthusiasm too much, but it's just annoying me.
Source: SuperHeroHype
Continue Reading >>> Source link