The Marvel Universe is about to get a whole creepier. Carnage is back, and this time he's not alone, as the villain is spreading his insanity.
Carnage has long been one of Spider-Man's toughest and most brutal foes. A bonding of alien symbiote and serial killer Cletus Kasaday, Carnage lives to murder and wreak havoc.
Now though, he's breaking his Spider-chains and becoming more of a Venom villain than a Spider-Man one. All you have to do is look at the title of his new book. Actually, it seems like the publisher might be looking to make him more of a Marvel Universe baddie, at least from the press release.
Web of Venom: Cult of Carnage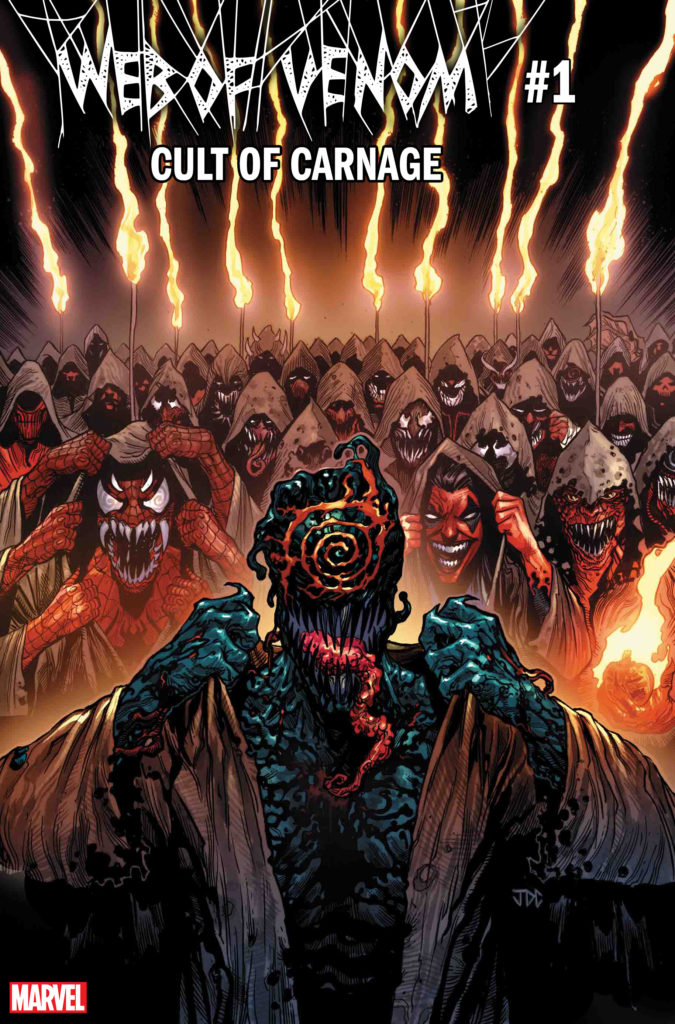 "CARNAGE, one of the scariest villains in the Marvel Universe, is back and bringing his special brand of mayhem with him!" teased series editor Devin Lewis. "For weeks, he's been working in the shadows, but now, he and his cult of psychotic, devoted acolytes will make their presence known in the biggest, baddest, and scariest way you've ever seen."

"WEB OF VENOM: CULT OF CARNAGE is a big puzzle piece in the overall conspiracy we've been building since VENOM #1," teased Venom writer Donny Cates. "As much as CARNAGE BORN was the rebirth of Cletus Kasady, CULT OF CARNAGE will give readers a larger look at our favorite serial killer's overarching plan. Big, BIG things are coming for Venom, folks, and it begins here, in CULT OF CARNAGE! #GodIsComing!"

WEB OF VENOM: CULT OF CARNAGE #1 arrives in local comic shops this April!

Marvel Comics press release
As you might note there, although we hear from Venom scribe Donny Cates, he's not actually a part of Cult of Carnage. This new book has a whole new creative team, with writer Frank Tieri and artist Danilo S. Beyruth.
Also worth mentioning is that it doesn't say clearly anywhere if this is an ongoing series, a limited one, or a one-shot. So your guess is as good as ours. One thing we do know though, is that Web of Venom: Cult of Carnage will hit stands this April.
Continue Reading >>> Source link